Propane sales in 1941

Strategies retailers use to secure more gallons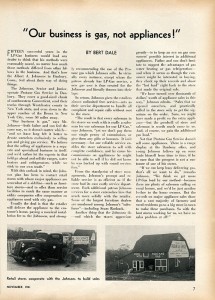 During LP Gas' inaugural year, feature articles and columns share best practices on selling propane and related appliances. While many retailers in the early 1940s focused largely on selling appliances, some retailers, including Protane Gas Service in Connecticut, made gas sales a priority, choosing instead to partner with the appliance stores.
"Sure, we might have made a profit on the extra appliance, but the goodwill of store and salesman is worth much more to us," says Albert Johnson, owner of Protane Gas Service. "And, of course, we gain the additional gas load."
According to Philadelphia Furnace Co., a retail propane and appliance business in Philadelphia, quality service is key for propane sales. Charles E. Mack, owner of Philadelphia Furnace, advises retailers to create a strategy to stay on top of emergency out-of-gas calls in order to retain customers and increase sales.
Propane sales on the rise
Propane sales escalate most years in the 1940s, as the fuel continues to emerge as a newer home-heating option. According to a report from the Bureau of Mines on LP gas sales that's published in July 1941, propane sales skyrocketed upward from the mid-1930s to 1940. The industry sold only about 18.6 million gallons of propane in 1934. However, by 1940, the industry's sales soared to 109.2 million gallons, nearly six times the total amount sold just six years prior.
Art of selling propane
It takes a sales-winning personality to achieve sales in the propane industry, according to Corning White in his September 1941 column titled, "Developing yourself as a salesman." Propane salesmen who possess this type of personality tend to make "more contacts, more friends and more sales," White adds. However, just about any salesman can shape his personality to match the sales-winning personality with effort, he says.
In another 1941 column, White discusses how to defeat the competition in sales pitches. He lists responses propane salesmen can use when potential customers ask how propane fares compared to other energy sources. "To beat a salesman pushing an appliance using some other fuel in competition with gas, you merely have to persuade your prospect of one or both of two things: That the appliance using gas will give her in greater degree the benefits she wants than will the comparable appliance using the competitive fuel; and that the appliance using gas is cheaper to operate."