Retailer uses low-cost technologies to facilitate business
Irish Propane Corp. didn't spend a dime when it began using Google Earth to improve its marketing strategies.
Matthew Irish-Jones, general manager at the Buffalo, New York-based company, watched a demonstration at last year's Southeastern Convention & International Propane Expo on how one company was using Google Earth.
Google Earth enables users to zoom in on just about any address in the world to view detailed images of specific locations. It allows users to clearly see houses, buildings and even objects such as tanks or vehicles in yards.
"Based on that demonstration, I thought this would be a great idea for us," Irish-Jones says.
Irish-Jones uses Google Earth to view a new customer's house or facility, which is helpful in determining a customer's tank location before delivering fuel there for the first time.
"It answers questions," he says. "Drivers and techs can now know where the tank is and about how much line has to be run in between the tank and the home. It's certainly helped on incoming sales since you don't always have time to send a person on-site to scope out the new territory."
Irish-Jones also uses Google Earth to gauge customer density levels. He can place pinpoints on a map to designate customer locations, giving a picture of the company's total service area. This visual aid helps him and other managers determine where to focus new marketing efforts.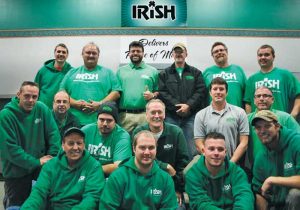 In addition, Irish-Jones and his dispatchers downloaded a tank monitoring company's smartphone app earlier this year to view data on customer-usage levels. Although the company receives email alerts on tank monitoring data, Irish-Jones likes that the app provides instant information whenever he needs it for better route planning and scheduling.
"Free programs all have their benefits if you can figure out how to use them," he says. "My advice for others would be to see what's out there and assess if there is a need for your company to use it. The most important thing is to know what is out there and understand how it can be used."
Irish Propane tries to be proactive in adapting new technologies. The company uses other free or low-cost tools such as cloud servers, Microsoft OneNote and MapQuest to make daily jobs easier. It also maintains social media pages, including Facebook and Twitter, and the company's website features a blog with updated content.
"While new technologies have their challenges – like finding them, figuring out how to use them and trying to have them interface with our current systems – they are definitely the wave of the future," says Laurie Irish-Jones, owner of Irish Propane. "You cannot deny the unbelievable track record technology as a whole has on almost every industry. There is no reason propane should be any different."
---
FOUNDED: 1932
FOUNDER: Ralph Irish
OWNERS: Pam, Katy, Laurie, Holly and Vicki Irish
HEADQUARTERS: Buffalo, New York
EMPLOYEES: 70
CUSTOMERS: 2,750
Megan Smalley is the associate editor of LP Gas magazine. Contact her at msmalley@northcoastmedia.net or 216-363-7930.