Second LP Gas Growth Summit underway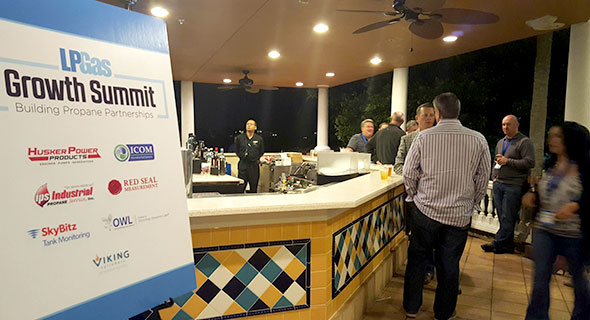 Propane industry leaders gathered Monday night for the start of the second annual LP Gas Growth Summit in Orlando, Florida.
The event, which LP Gas launched a year ago, unites propane retailers and vendors of industry equipment and services in a unique buyer-seller networking environment. The event provides attendees a one-on-one meeting setting to forge partnerships that can lead to sustained, mutual growth.
Twenty individuals from 17 retail propane companies are participating in this year's summit, which is again being held at Reunion Resort. Representatives from six industry vendors – Husker Power Products Inc., Icom North America, Industrial Propane Service Inc., SkyBitz, Technology Assurance Labs, and Viking Cylinders by Hexagon Ragasco – have joined propane retailers in Orlando.
In addition to the retailer-vendor meetings, educational opportunities are available to attendees. Jeremy Wishart, deputy director of business development at the Propane Education & Research Council, is scheduled to speak to attendees about gallon growth opportunities in the lawn and landscape and material handling markets. Likewise, several retailers will offer market input on propane autogas opportunities during an LP Gas Growth Summit panel discussion.
For more information about the LP Gas Growth Summit, contact Publisher Brian Kanaba at bkanaba@northcoastmedia.net or Editor in Chief Brian Richesson at brichesson@northcoastmedia.net.
Photo: LP Gas Magazine
Kevin Yanik was a senior editor at LP Gas Magazine.