Set underground lines safely
Propane marketers routinely set new gas systems at residential, commercial and industrial customer locations. When doing so, there are important steps to follow to ensure a safe system.
It is common for systems that require a tank set to also require placement of underground lines. This installation work requires the use of a system called Diggers Hotline, or a similar name. The number to call is 811.
The general framework of Diggers Hotline is that anyone who plans to dig for any reason needs to call at least three business days in advance of the work. Upon receiving a call, Diggers Hotline will provide notice to all utilities that have their lines in the area where the work is going to occur. These utilities typically do not mark their utilities themselves. Instead, they hire marking companies that go out and mark the utilities in the proposed construction area. Each utility has an assigned color. Yellow is assigned to gas lines, like propane and natural gas.
This system seeks to streamline the process of notifying utilities of underground work. There was a time when each utility had to be notified of this work. This led to many more strikes of utilities than we see today as it was a cumbersome process.
This system is not without its problems. However, if properly followed, it can eliminate utility strikes when laying underground propane lines.
Best practices
To start, always be sure you have properly identified the work area. It is better to have an area larger than the specific work area located. You should still be reasonable in the locate request.
After waiting 72 hours, you can start digging. Understand that, in most states, you need to have a completed dig ticket in hand to proceed with your dig. You also need to understand that the locations are marked in colored paint on the surface (i.e., grass, cement, blacktop, etc.) or with colored flags. You need to pothole in areas where your new gas line will cross an existing utility. You need to hand dig within 18 in. to either side of the marking to ensure you do not damage the existing utility.
Keep in mind that the markings are not an exact designation of where the existing utilities are placed below ground. Over time, earth movement can shift the location of these existing utilities, left and right and up and down.
Each state has a limited time during which a completed dig ticket identifying utilities is valid. You can only dig to install your new gas line while your dig ticket is valid. It may vary by state, but it is common that a dig ticket is valid for 10 days from completion of the marking of the existing utilities or from the last work done to install your gas lines.
If the location markings have been washed away by rain or other activities, a new locate ticket needs to be called in to Diggers Hotline. This requires a 72-hour wait before digging can commence again to install the new gas lines.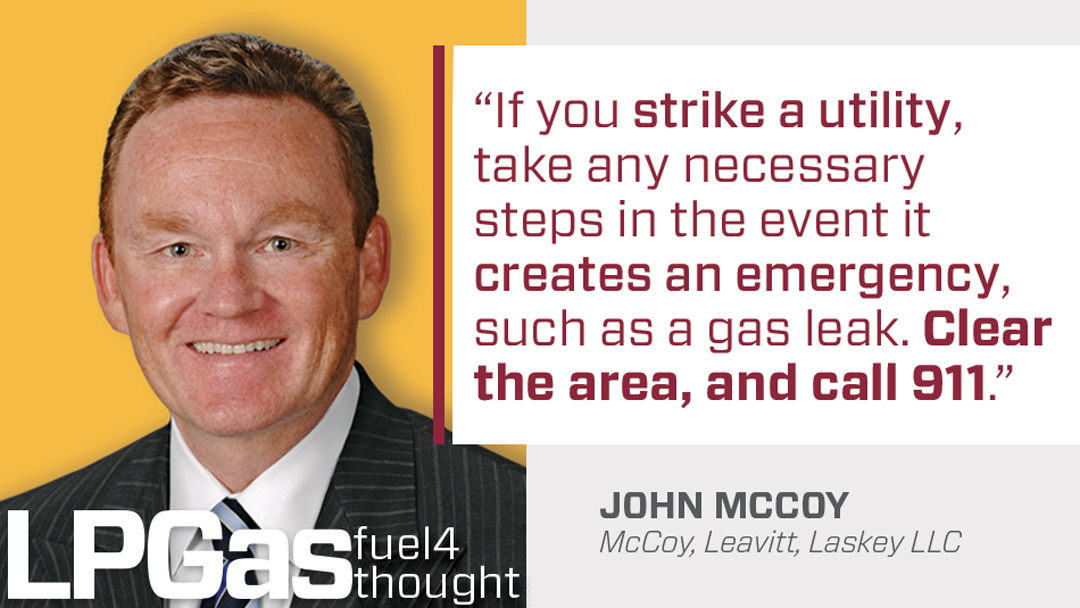 Most states require each person seeking to conduct any underground digging to obtain his or her own dig ticket from Diggers Hotline. You typically cannot work on someone else's dig ticket.
Even with a completed dig ticket, it is possible that not all underground utilities have been marked by the marking company. These companies sometimes make mistakes and miss utilities. Some utilities can be lost over time. Many utilities have tracing wires attached that allow marking companies to locate them. Sometimes this tracing wire breaks, and that utility can be missed.
If you strike a utility, take any necessary steps in the event it creates an emergency, such as a gas leak. Clear the area, and call 911.
If you are able to do so, document the dig. Before starting your work, photograph the markings that exist in the area where you are about to dig. When you are done, photograph the area where you dug. Sometimes utilities don't immediately know that their line has been struck. So, it may be weeks or longer before you are notified about a claim that you struck a utility during your digging. Taking contemporaneous photos of your work will be of great benefit when defending against a claim like this.
---
John V. McCoy is with McCoy, Leavitt, Laskey LLC. His firm represents industry members nationally. He can be reached at 262-522-7007.