A response to the not-always-friendly environmental arena
The phrase is all too familiar: The propane industry is under attack.
In recent years, these attacks have come cloaked in policy proposals and codes and standards development that ban gas in some form or application and negate consumer choice – often at the state or local level – in favor of electrification. They've also come from federal regulatory agencies, environmental groups and the media.
If the early part of 2023 is any indication, this trend is only going to continue.
Gas stoves have been the latest hot-button issue – first the target of the Consumer Product Safety Commission leading into the new year and then the U.S. Department of Energy's (DOE) proposed rulemaking in February that addresses energy conservation standards for consumer conventional cooking products. The National Propane Gas Association (NPGA) calls the DOE action a "serious threat" to gas stoves at the consumer level. This is in addition to proposed rulemaking around efficiency codes involving gas furnaces and water heaters.
The year wasn't even two weeks old when The New York Times published an article critical of the Propane Education & Research Council (PERC). The article questioned PERC's spending on marketing and communications, suggesting a misuse of industry funds to benefit an anti-electrification campaign. Other outlets, including the watchdog group Energy and Policy Institute, shared points made in the story and took PERC to task on its spending and handling of records.
PERC countered quickly, contacting the Times writer and going public with its own points: It has received federal government oversight several times since Congress authorized the checkoff program's formation in 1996; it did not fund a New York campaign to fight electrification; and it welcomes a "wide path to a low-carbon future."
"We as an industry must continue to advocate for our environmentally friendly energy source. We should not be ashamed of it," says PERC Chairman Stuart Weidie, president and CEO of Blossman Gas.
When PERC launched its environmental messaging campaign in 2021 to tout the benefits of propane and enter the national energy conversation, it had to expect that industry critics would follow. PERC President and CEO Tucker Perkins seems to welcome a healthy debate. In fact, he discusses technical and environment topics in detail with a variety of guests and thought leaders on his podcast, "Path to Zero."
Now, Perkins calls the environment in which PERC is operating "the new normal."
"This is a very polarizing issue and people have very different views of how we get to a more utopian climate," he says of the environmental discussion.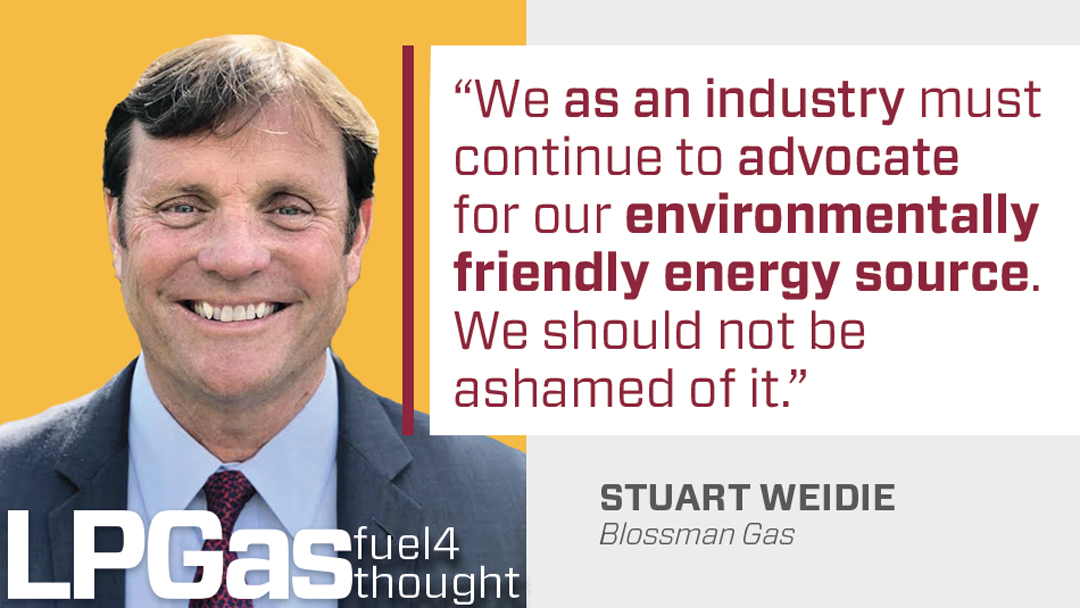 Meanwhile, the industry isn't sitting back in the face of the attacks. Several examples of how it's responding:
⦁ Last month at NPGA winter meetings in New Orleans, we learned that 21 states now have laws protecting consumer energy choice, and another handful could join the group this year. NPGA works with state propane associations to get these types of laws on the books.
⦁ Out west, Blue Star Gas joins a coalition of trade associations, union representatives, businesses and homeowners in a lawsuit challenging the Washington State Building Code Council's new codes restricting the use of propane and natural gas in new residential and commercial construction.
⦁ In the wake of the Times article and other reports, PERC is emphasizing its rapid-response approach, which seeks to address and correct within 48 hours what it views as faulty media coverage. It shares these responses in the "Setting the record straight" section of its website.
⦁ Industry leaders see a need to educate employees about the environmental benefits of propane. Bobtail drivers, customer service representatives and other employees must know the proper responses to customers who ask about their gas stoves, something they've heard in the media or propane in general. PERC offers these types of educational resources.
So, while the industry has felt the heat already this year, it's no longer content playing defense – though one can see how it's defending its right to be part of the same playing field.
Webpage image: tttuna/E+/Getty Images
Brian Richesson is the editor in chief of LP Gas Magazine. Contact him at brichesson@northcoastmedia.net or 216-706-3748.