Blue Bird, Boston Public Schools partner on propane bus launch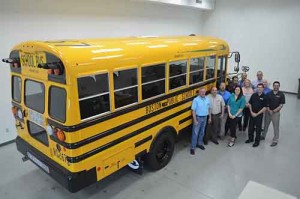 Boston Public Schools expects to operate 11 percent of its fleet with Blue Bird propane autogas buses, starting with the 2015 to 2016 school year.
Boston recently implemented mandates for reducing tailpipe emissions. The school district, currently the city's largest user of diesel fuel, decided to switch to propane autogas-fueled buses to reduce its diesel emissions and better meet the mandates.
The school district purchased 86 Blue Bird Propane Vision school buses. The district also hopes to convert more of its diesel fleet to propane buses in the future.
The buses, powered by a Ford V10 engine, come equipped with a Roush CleanTech propane autogas fuel system. With the new buses, the district's fleet will emit 66,000 less pounds of nitrogen oxide and 2,700 less pounds of particulate matter each year, according to Blue Bird.
About 40 percent of Boston's fleet consists of 169-inch wheelbase buses. The smaller size buses meet the school district's needs related to hours and service.
Phil Horlock, president and CEO of Blue Bird, says the company is utilizing a propane autogas fuel system on Boston's short wheelbase buses to meet the school district's needs.
The school district also expects to save at least $1 per gallon on fuel, as well as lower maintenance costs due to the cleaner-burning properties of propane autogas.