Drones take off as key components for propane marketing
For a retail propane business deeply rooted in tradition, it can be difficult to stand out among other businesses.
That's why Rick Cummings, vice president of Hudson, New York-based Mulhern Gas, took a chance on using a drone, or unmanned aircraft system (UAS), for his marketing purposes.
Cummings' great grandfather founded Mulhern Gas in 1918, and it's been passed down in the family since. The company holds the same values today as it did nearly 100 years ago, but Cummings says it tries to be progressive. As examples, Mulhern Gas recently added new routing software to aid deliveries and electronic invoicing for its customers.
"It's sadly not as much as we should and could [do], but we've been pulled along, kicking and screaming," Cummings says. "We try to move with the times."
Shortly after the company implemented the software updates, Cummings was approached by Shane Sweet, executive director for the New York Propane Gas Association (NYPGA), about a drone presentation for NYPGA's 2016 spring meeting in Albany, New York. The presenter, Roger Rosenbaum, president of Brand-News-Team Inc., hoped to follow a bobtail delivery driver for a day and film the truck using a drone. Cummings agreed to participate.
"That was my first introduction to even remotely think of drones and the propane industry," he says.
Standing out
Rosenbaum, who's been in the video business for about 30 years and has worked for propane marketers for more than five years, followed one of Cummings' bobtails for a day and used the drone footage to produce a marketing video, which was later shown at the NYPGA spring meeting.
"The original footage was shown at our spring conference last March to the assembled group of propane retailers across the state, and the response was overwhelming," Cummings says. "It really was a huge 'wow' factor."
Simply purchasing a drone isn't a solution to gain new customers, though, Rosenbaum says.
"I don't think you're going to gain new customers just because you have drone footage," he says. "I think it's part of an overall package of how you present your brand to your customers. But if you give the opportunity to a customer to see how you deliver, how you drive down a country road and the extent to which your company goes the extra mile to reach its customers, which can be done through drone footage, I think that's really a strong selling point."
Rosenbaum emphasizes the use of drones to humanize the propane delivery process and show customers that propane is more than a commodity for some people.
"A lot of people think propane is a commodity, but for the people at home, it's a lifestyle necessity," he says. "So we humanize that a little bit more with more images that show the process of what it's like to bring the product from the propane marketer to the home."
---
Videos by Allison Barwacz
---
The process
On the surface, flying a drone seems like a straightforward process. However, it's more than that – from following basic safety practices to Federal Aviation Administration (FAA) regulations.
Until late August 2016, the FAA had strict restrictions on the commercial use of drones. Its new rules for non-hobbyist small UAS operations, or Part 107 of the Federal Aviation Regulations, require operators to be at least 16 years old and for them to keep the drone in sight. The commercial drone must be less than 55 pounds and can only be operated during the day and up to a half-hour before sunrise and after sunset.
Prior to the implementation of the new rules, companies were required to request permission from the federal government for any commercial drone use. Operators also were required to hold manned aircraft pilot's licenses, or traditional pilot's licenses.
"The only way to fly a drone commercially in the United States was to have an exemption from the FAA," says Tom McMahon, vice president for advocacy and public affairs for the Association for Unmanned Vehicle Systems International. "The FAA began awarding exemptions at the end of 2014 up until this past summer, and during that time, it issued about 5,500 exemptions."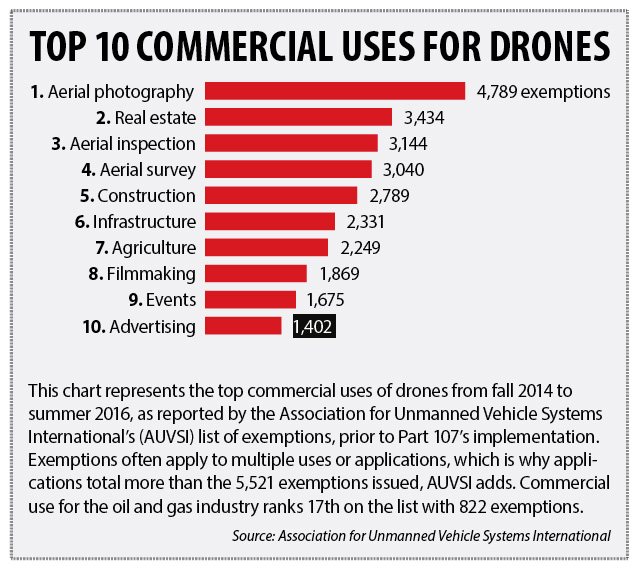 Now, with the implementation of Part 107, an operator is no longer required to have a manned aircraft pilot's license. The operator now must obtain a remote pilot certificate. This can be done by passing a knowledge test, being vetted by the Transportation Security Administration, which is similar to a background check, and paying a small fee.
"It's interesting the FAA said, on the first day it made the knowledge test available for potential operators to get their remote pilot licenses, it had more than 3,000 people already signed up to take the knowledge test," McMahon says.
The FAA forecasts that as many as 600,000 unmanned aircraft were used commercially during the first year of Part 107's implementation.
Once an operator has obtained a license, it's important to develop a strategic plan for the drone's commercial use.
Rosenbaum, who uses a DJI Phantom III to capture his footage, emphasizes the importance of following the regulations, as well as developing a precise roadmap for a company's drone use.
"Drones are a great tool, but you have to know exactly why you're using them, where you're using them and when you're using them, for safety purposes, regulation purposes and brand purposes," he says. "A propane company is going to have to give a lot of thought to how it is going to deploy, operate and land this device. It needs to be done with extreme caution and great care."
Beyond marketing
With companies like Amazon suggesting drone delivery service, it's no wonder other businesses are brainstorming further uses of drones, and the propane industry is no exception.
Dylan Sumner, company representative for the Barron Rail Terminal for Propane Depot, a wholesale supply terminal in northwestern Wisconsin, uses his DJI Phantom IV to capture footage of the terminal. He used his footage to create a promotional video, which he sends to potential customers. He believes the videos help build customer trust.
"When they [the customers] see the scope of the operation, it gives them a little more sense of security in the choice they're making to do business with you," Sumner says.
His drone has also been used internally in conjunction with the company's expansion.
"We're going to build another facility, so we'll shoot in the air and snap a photo of how our facility is laid out, look at it and then start looking at how the new facility is going to be," Sumner says. "It's been a great comparison tool for our constructive phase."
Some propane industry professionals also believe drones can play a role in safety.
"One of the possibilities is the use of drones to survey delivery areas when the weather is bad," Sweet says. "You don't want to put a $150,000 bobtail up the driveway if you can't get it out."
Sweet also suggests using drones with remote sensors to record the temperature of a chimney top and determine a home's heating situation.
Cummings also sees the safety potential for drones when it comes to surveying hard-to-reach areas, like roofs or chimneys.
"I could easily foresee that working for the propane industry, whether it be large tanks you need to see the top of and inspecting chimneys, as well," he says. "They're incredibly versatile tools, and I'm sure they'll find a home in the propane industry."
Still, others see propane marketing as the main use for drones for the time being.
"There may come a time when there are many other opportunities to use drones in the propane industry, but at this point, what seems to make the most sense for a number of marketers is to showcase how they're delivering products to their customers," Rosenbaum says.
This doesn't mean drones don't serve an important purpose, though.
"I think the best way of using a drone is to showcase what makes one propane marketer better and different and more effective for customers than another one," Rosenbaum says. "Basically, you can make a human connection with the process of delivering propane, and the way to do it is show another perspective."
---
Pilot responsibilities
A person operating a drone must hold a remote pilot airman certificate with a small unmanned aircraft system (UAS) rating or be under the direct supervision of a person who does hold a remote pilot certificate.
To qualify for a remote pilot certificate, a person must:

Demonstrate aeronautical knowledge by passing an initial aeronautical knowledge test at an FAA-approved knowledge-testing center or hold a Part 61 pilot certificate other than student pilot, complete a flight review within the previous 24 months and complete a UAS online training course provided by the FAA
Be vetted by the Transportation Security Administration
Be at least 16 years old
Source: Federal Aviation Administration
---
Operational limitations
The new drone rule, which went into effect Aug. 29, 2016, contains a number of operational limitations. Here are some key points to keep in mind when considering the purchase of a drone.
The drone must weigh less than 55 pounds.
The drone must remain in the operator's visual line of sight.
The drone may not operate above anyone not participating in the operation, under a covered structure or inside a covered stationary vehicle.
The drone may only operate in daylight or civil twilight (30 minutes before the official sunrise or 30 minutes after the official sunset of the local operating time).
Source: Federal Aviation Administration

Allison Kral was a senior digital media manager at LP Gas magazine.