Examining a tough three weeks for propane inventory
It has been a tough three weeks for propane inventories, as the typical period of inventory build nears its end.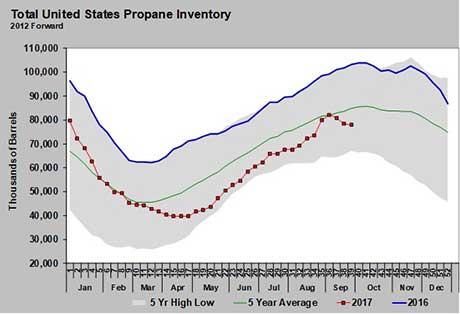 The latest data from the U.S. Energy Information Administration, for the week ending Sept. 29, showed propane inventory declined 396,000 barrels. This was the third week in a row that inventory decreased since reaching a high of 82.183 million barrels.
The draws taking place at this time of the year are not typical and are mostly brought on by impacts from Hurricane Harvey. As the charts show, when Harvey occurred, there was a big spike in propane inventory as propane exports plunged.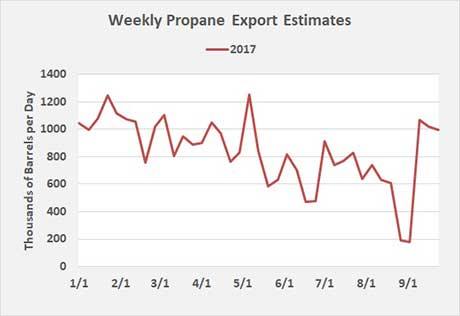 The chart above shows the impacts that Harvey had on exports. They dropped to below 200,000 barrels per day (bpd) at the time of Harvey. Over the last three weeks, they rebounded to an average of 1.027 million bpd.
Essentially, we should connect the data point from five weeks ago with the data point from last week. This would take out the bump in inventory in the top chart, and would give us an idea of what the chart would probably look like had Harvey not occurred.
The chart would then show typical small – but steady – inventory builds over the last five weeks. Inventory builds generally end by the second week of October, but there have been a few times when they have continued until mid-November. Some build in inventory over the next two to six inventory reports is not out of the question. Of course, that will require propane exports or domestic demand to fall from where they were last week, which is probable.
In any scenario, it would appear winter will begin with inventory below the five-year average and some 25 million barrels below last year. Obviously, the overall inventory trend is down, which is price supportive. Consequently, propane prices have increased around 40 cents from this time last year.
What remains is the huge question of how much U.S. propane will be demanded at home and abroad this winter. Last winter, demand brought down inventory by 64.357 million barrels. Will that much propane be demanded with prices already 40 cents higher to start this winter compared with last winter? The general consensus appears to be no, based on how much lower propane price are for further-out months compared with the current month.
If that is not the consensus, then how is propane for January cheaper than propane for October? If the market truly believes propane inventory could draw 64 million barrels this year, wouldn't propane prices later in winter be higher relative to the current month?
As of now, the propane market reflects little concern for inventory tightness toward the end of winter. What is the source of such optimism? Is this a market that is unwilling to accept the paradigm shift in propane fundamentals? Or is there already evidence that propane exports this winter will be significantly less than they were last year at current price levels?
We don't have evidence for the impending doom of U.S. propane exports, so we remain more bullish than the general market. The upside price risk remains significant in our view. However, we have to assume the general market knows some things we don't, given the current price structure. That helps temper our concerns about upside price risk to some degree.
Nonetheless, being conservative, we continue to see price pullbacks with buying opportunities and would be equally cautious about being too quick to take profits on supply positions already bought. We remain concerned about the 25 million barrels of less inventory than last year; the 64 million barrels drawn on inventory in 2016; a global propane market that seems willing to follow U.S. prices higher; and Brent crude trading at a $6.50 premium to West Texas Intermediate.
Apparently, the general market offsets these facts with the expectation that U.S. propane exports this year will fall off compared with last year at current market prices. We aren't there yet. We still believe it will take a higher price from here to keep exports subdued as winter demand in the Northern Hemisphere kicks into high gear. We are still looking for the Shangri-la from where the world will get the propane this year that it got from the United States last year, thus resulting in a much smaller inventory drawdown without prices rising from here.
---
Call Cost Management Solutions today for more information about how Client Services can enhance your business at (888) 441-3338 or drop us an email at info@propanecost.com.