Export activity on the rise along East Coast
For the week ending Oct. 14, the U.S. Energy Information Administration (EIA) reported a 1.246-million-barrel draw in U.S. propane inventory. Interestingly, the bulk of the draw came from Petroleum Administration for Defense District (PADD) 1B.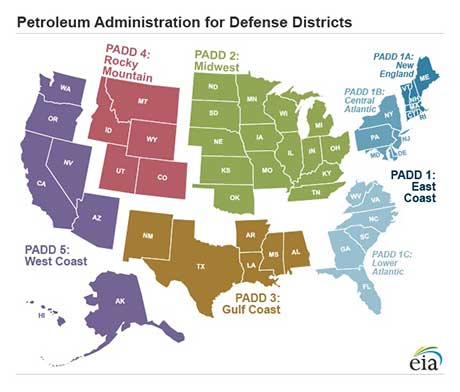 As most know, there are five PADDs. Further, PADD 1 is divided into three sections: New England (1A), Central Atlantic (1B) and Lower Atlantic (1C).
Nearly half of last week's draw – 620,000 barrels – came from PADD 1B. That number looks curious to a lot of retailers, especially those in that area as they try and determine if they slept through a cold front.
Rest assured, they did not. For the week corresponding to this EIA report, heating degree-days in that area were just 62 on a population-weighted average, 19 below normal. Since July 1, that area is 159 heating degree-days below normal, and even 58 days below last year.
The draw was almost certainly the result of export activity. In PADD 1B, Marcus Hook, Pennsylvania, is becoming a more active propane export facility.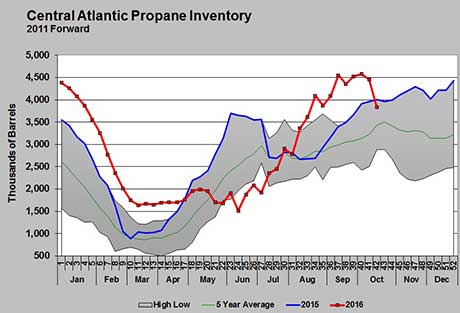 The chart above shows propane inventory in PADD 1B. Note how much choppier the inventory changes have been in recent months. The inventory position appears to reflect export activity. A look at industry reports shows corresponding shipments of propane in weeks that inventory drops. The export data for the week just reported is not yet available, but we can be confident the dramatic change was due to increased export activity.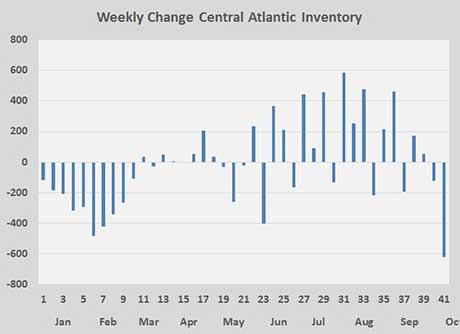 The chart above shows even more clearly how much more erratic inventory changes have become in PADD 1B due to export activity. Inventory will build for two or three weeks and then fall sharply as export cargoes are loaded. The week ending Oct. 14 appears to have had several cargoes loaded at Marcus Hook.
It is possible Marcus Hook will be an even more active propane export facility in 2017 based on comments from industry sources. Sources say that Conway has given producers the least netback of any markets this year. It is believed that product shipped to Conway this year via train from the Marcellus and Utica shale gas plays will move to Marcus Hook for export in 2017.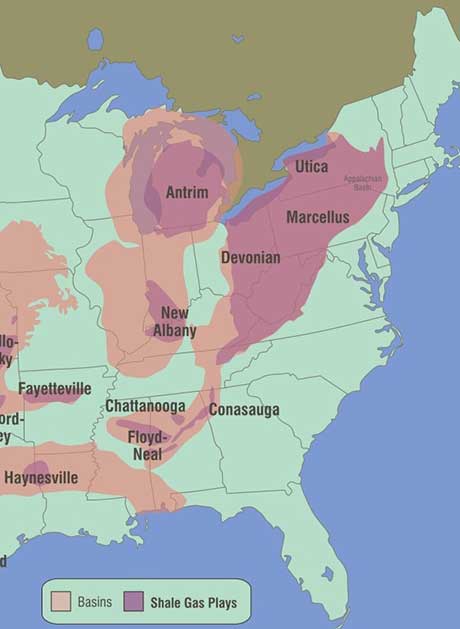 The map above shows the close proximity of these shale natural gas plays, which are increasing amounts of natural gas liquids, including propane, to Marcus Hook.
The exports from Marcus Hook go to buyers in Europe. Exports from the East Coast to Europe obviously have a transportation advantage over cargoes from the Gulf Coast. This is just another example of how increased U.S. propane export capacity changes the winter focus from North America to the Northern Hemisphere.
---
Call Cost Management Solutions today for more information about how Client Services can enhance your business at (888) 441-3338 or drop us an email at info@propanecost.com.