Fluctuations in Gulf Coast propane inventory
The reduction in export activity from the Gulf Coast is showing up in inventory levels. For the week ending Aug. 19, the Energy Information Administration reported an inventory build of 1.567 million barrels on the Gulf Coast.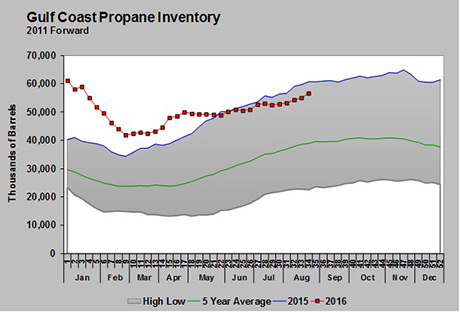 The five-year average build for the week reported is 744,000 barrels. Strong exports at the beginning of the year reduced a major surplus of propane on the Gulf Coast, bringing inventory levels to below last year's levels by the end of May. Inventory on the Gulf Coast remains below where it was at this time last year, but the build trend is now above average.
Even though inventory is 4.158 million barrels below last year on the Gulf Coast, the number is a bit misleading. The Gulf Coast region normally pushes supply to the East Coast to augment winter supply when demand picks up. East Coast inventory is 4.314 million barrels higher than it was at this point last year. The amount that Gulf Coast inventory is short of last year is almost exactly the amount that East Coast inventory is above last year.
Of course, the implication is that Gulf Coast production could be finding fewer homes on the East Coast until winter demand picks up. For that reason, this week's above-average build in Gulf Coast inventory could become the norm until winter heating demand kicks into gear or exports pick up again.
Mont Belvieu is trading at 42 percent of West Texas Intermediate (WTI), about 6 percentage points below the five-year average. However, the relative value is better than last year at this time when Mont Belvieu was trading at 38 percent of WTI.
The relative value to crude could be higher this year because of the lower inventory level on the Gulf Coast than at this point in 2015, which would mean the market is largely ignoring the increased inventory level on the East Coast.
Even though propane exports have been off recently, an increase in export capacity from last year is more likely than the lower inventory level on the Gulf Coast for Mont Belvieu's relative value being up year-over-year.
---
Call Cost Management Solutions today for more information about how Client Services can enhance your business at (888) 441-3338 or drop us an email at info@propanecost.com.