Flynn Propane develops campaign to support veterans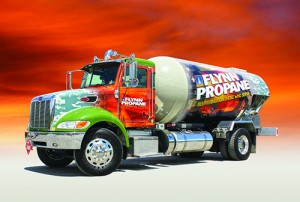 Flynn Propane, based in Towanda, Pa., created a campaign – the American Hero – to support the Pennsylvania Wounded Warriors (PAWW) charity. PAWW helps Pennsylvania veterans and their families with medical and financial emergencies.
Ryan Scaife, Flynn Propane's marketing and advertising director from Senergy Marketing Group, says many Flynn Propane employees and family members serve in the military or are veterans. One of the company's bobtails is designed as a military tribute. Scaife says the company plans to pledge 2 cents for every gallon delivered from that bobtail to PAWW during the 2015-16 winter heating season.
Photo: Flynn Propane