Low Midwest inventory at odds with weak Conway values
Last Wednesday the U.S. Energy Information Administration (EIA) reported that U.S. propane inventory stood at 35.872 million barrels for the week ending April 13, up just 40,000 barrels from the previous week. The small build occurred in a week that has averaged a 790,000-barrel build over the last five years.
Nationally that puts inventory nearly 10 percent below this point last year and 25 percent below the five-year average. Frankly, we aren't paying much attention to the five-year average inventory level since that average is skewed by very large inventory builds in 2015 and 2016. Inventories reached 106 and 104 million barrels, respectively, in those years before export capacity was sufficient to move excess U.S. supply. We would expect inventory levels to be maintained in the 25,000- to 85,000-barrel range going forward.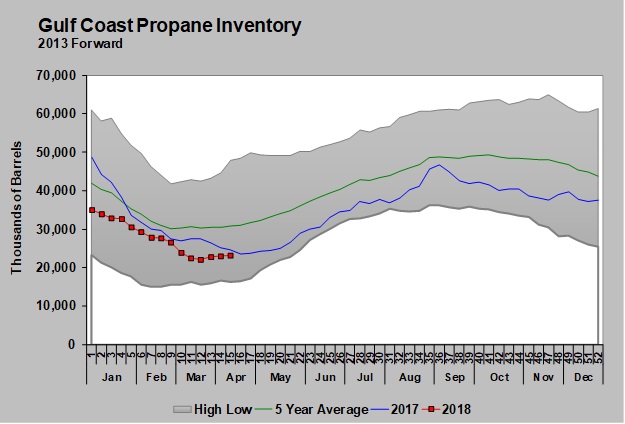 Inventory on the Gulf Coast is close to where it was this time last year. With exports staying relatively low, we would expect above-average inventory builds there as soon as winter demand ends. Exports did jump up by 294,000 barrels per day (bpd) last week.
The rate of 887,000 bpd of exports was still 161,000 bpd below last year during the same week. With more propane production this year, exports will need to run more than in 2017 to keep inventory from building at a higher rate this year. Inventory reached a high of 82.183 million barrels last year.
Perhaps the biggest surprise for propane pricing is relative to Conway. Conway propane had run for weeks at a price 15 cents below Mont Belvieu. Recently that spread has narrowed to 11.75 cents.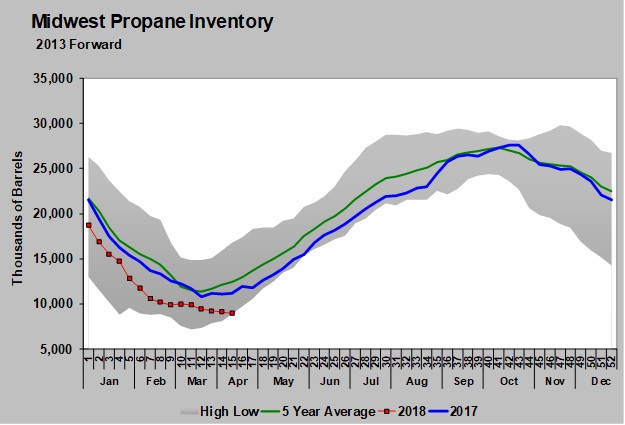 Seemingly at odds with the weak values for propane in Conway are Midwest propane inventories that are right at a five-year low. For the week ending April 13, Midwest inventory stood at 8.973 million barrels or nearly 20 percent below the same week in 2017.
Intuitively it would seem the relatively low Midwest inventory would have Conway prices much nearer Mont Belvieu prices. We would normally expect Conway to trade at 5 to 6 cents lower than Mont Belvieu this time of year and the lower inventory might have us expecting an even tighter price spread.
The wide spread is primarily contained to the summer months. Futures prices show Conway and Mont Belvieu prices only 2 cents apart over the October 2018 – March 2019 time frame.
Another interesting development is that speculative traders had been playing Conway propane very short, meaning they were betting on lower prices. However, in the last two weeks there has been a dramatic turn in speculative positions. Traders are now holding slightly more long than short positions. That simply means they have gone from the vast majority betting on lower Conway propane prices in the future to about an equal split between traders betting on Conway prices going higher and those betting they will go lower.
Both the speculative activity and the difference in pricing of nearby Conway propane and further-out futures prices would indicate the market is expecting whatever is making Conway relatively cheap now to be gone by next winter.
It is certainly possible the issue with the Mariner East system is causing the current weakness, and the market is expecting those issue to be resolved by the start of next winter. Mariner East transports propane from the Marcellus and Utica shale plays to the East Coast for possible export. Without that system online, propane can back up in the Midwest, causing an excess of supply.
Not only has the expansion of the system been delayed, its legacy pipeline, Mariner East 1 – which has a capacity of 70,000 bpd –, has been closed for inspection by the Pennsylvania Public Utilities Commission.
Regardless of the reasons and the time of resolution of issues depressing Conway prices, those that have the ability to buy front-month Conway propane and store it until winter could be in a good position. Should that play be made, a buy and store player could still protect the downside by selling swap positions against the inventory should it look like the expected change in Conway pricing will not take place.
It would seem the opportunity to buy April propane at sub-70 cents and at somewhere near a 40 percent relationship to crude would make such a play relatively low risk if the investment has already been made in storage.
---
Call Cost Management Solutions today for more information about how Client Services can enhance your business at (888) 441-3338 or drop us an email at info@propanecost.com.