Propane inventory sets second record in three weeks
The Energy Information Administration's (EIA) Weekly Petroleum Status Report for the week ending Oct. 30 shocked traders with reports of an 848,000-barrel increase in U.S. propane inventory. Propane inventory had only fallen for two weeks before building again.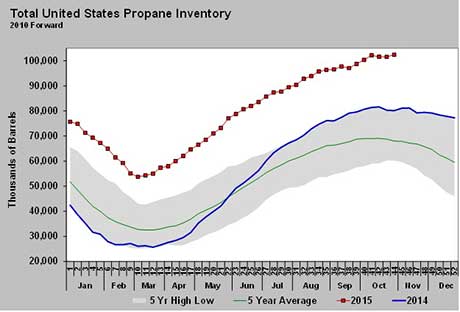 The increase pushed inventory to a new high for the year at 102.411 million barrels. The previous high for this year was at 102.164 million barrels, which was three weeks ago.
The build in inventory during the heart of this year's corn harvest is a testament to weak crop drying demand. The 18 states that harvested 94 percent of the U.S. corn crop last year have harvested 85 percent of this year's crop as of Nov. 1, the U.S. Department of Agriculture reported.
We hear the corn is dry enough coming out of the fields to only need forced-air drying without added heat to get it to an adequate moisture content for storage. Those reports seem to be reflected in last week's propane demand data.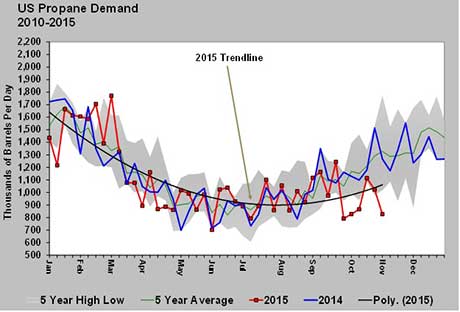 Domestic propane demand was strong during the previous two weeks, but for the week ending Oct. 30, it fell sharply.  Domestic demand was at 1.020 million barrels per day (bpd) for the week ending Oct. 23, but then fell by 196,000 bpd to just 827,000 bpd last week.
That drop was more than enough to offset a record-high level of propane exports estimated at 680,000 bpd and a drop in total propane supply to just 948,000 bpd, down 72,000 bpd from the previous week. Propane imports dropped by 47,000 bpd and propane production dropped by 25,000 bpd.
The trend line for propane demand shows that it is well below last year and the five-year average since August. However, following the trend line back from there shows above-average demand during the spring and early fall.
That early trend line that showed above-average demand during the spring and summer raised concern about demand this fall. The assumption is that demand was high as propane buyers took advantage of very low spot gas prices during that time, packing storage at the retail and propane consumer levels. If that assumption is true, it would be another reason for the record-low demand numbers currently being posted. Retailers and their customers are likely having to work through more on-hand inventory this fall than in a typical year.
The U.S. is running below normal and below last year for heating degree days to this point in the year.  Domestic heat load has simply not been enough to offset the lack of crop drying demand.
At this point, the lack of help from the demand side puts pressure on the supply side to adjust. As we said last week, the 30 percent of propane supply that comes from refineries will remain constant unless demand for gasoline and distillates falls. For now, it appears pulling down record-high inventories falls squarely on the natural gas and natural gas liquids producers.
There will be more propane export capacity early next year, but the next couple of months need to be navigated before that new capacity will have an impact.  Pricing conditions for propane are likely to stay neutral to bearish during that time unless crude happens to mount an unexpectedly strong rally.
Week in review
We went into last week bearish and were surprised by a bounce in crude due to an oil workers strike in Brazil. Propane prices jumped with the rally in crude. However, the impact of the strike was short-lived and crude was bearish to close the week, and propane followed.
We remain bearish on both crude and propane. Both have scant fundamental support and crude is technically vulnerable to more downside.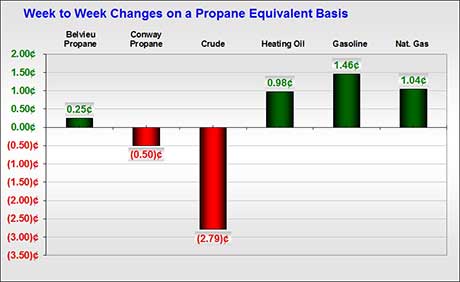 Last week's highlights
Monday: China's factory activity sent crude lower. Conway fell with crude, while Mont Belvieu closed even with Friday's close. Iran began shutting down centrifuges it used to enrich uranium in compliance with the agreement with world powers. The action increases the chances sanctions against Iran will be lifted later this year or early next year. This would result in more crude on the global market.
Tuesday: Crude prices surged higher on reports that an oil workers strike in Brazil may be cutting 500,000 bpd from crude production. Propane surged higher with crude and Conway propane outpaced West Texas Intermediate crude to the upside.
Wednesday: Crude and propane prices gave up some of their previous day's gain after the EIA reported bearish data in its Weekly Petroleum Status Report for the week ending Oct. 30. U.S. propane inventory increased 848,000 barrels to a record of 102.411 million barrels. U.S. crude inventory increased by nearly 3 million barrels.
Thursday: Crude prices finally tumbled through technical support that had been present since Oct. 28, leaving it vulnerable to more downside.  Propane lagged the fall in crude, but Mont Belvieu still posted a loss on the day.  Conway matched Wednesday's close despite the bearish inventory report.
Friday: Crude prices continued to retreat as momentum to the downside increased. Crude came under additional pressure as the U.S. dollar surged after a surprisingly strong U.S. jobs report. Propane prices outpaced crude to the downside, likely making up for falling off the pace of the crude retreat on Thursday.
Cost Management Solutions LLC (CMS) is a firm dedicated to the analysis of the energy markets for the propane marketplace. Since we are not a supplier of propane, you can be assured our focus is to provide an unbiased analysis.
For more Cost Management Solutions analysis of the energy market that helps propane retailers manage their supply sources and make informed purchasing decisions, visit www.lpgasmagazine.com/propane-price-insider/archives/.

Allison Kral was a senior digital media manager at LP Gas magazine.