Propane markets stay calm despite light inventory build
This past week, the Energy Information Administration (EIA) surprised propane markets by reporting just a 78,000-barrel increase in U.S. propane inventory. The data included a 589,000-barrel decrease in Gulf Coast propane inventory.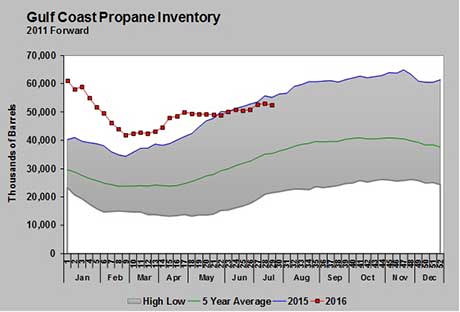 The draw in Gulf Coast inventory came in a week that has averaged a 1.176-million-barrel build in that region over the last five years.
The light inventory draw was a direct result of a sharp increase in domestic propane demand.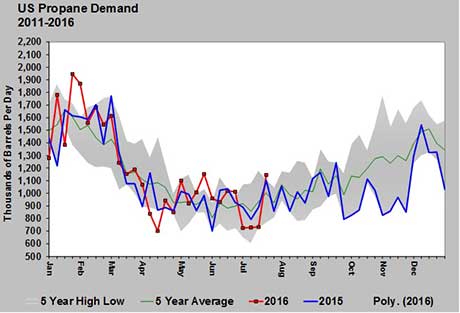 Domestic demand for propane increased from 735,000 barrels per day (bpd) for the week ending July 8 to 1,145,000 bpd for the week ending July 15. The 410,000-bpd increase was the single biggest reason for the light inventory build. The demand was a five-year high for the week reported.
The light inventory build was in stark contrast to several weeks of above-average builds in total U.S. propane inventory, especially in the Midwest. Yet, propane markets stayed calm in light of the surprisingly bullish inventory report.
The reaction leaves two possible conclusions. First, traders simply did not believe the validity of the data and continued to trade the trend established over the previous four weeks. During that time, total U.S. propane inventory increased more than 9 million barrels and ended the trend for below-average builds on inventory that preceded that four-week stretch. Second, traders accepted the validity of the data but, based on knowledge of slower exports, believed this week's light inventory build was an anomaly that should not affect their long-term thinking and positioning.
Knowing there is a lot of buying interest for propane, we were prepared for a possible bounce in propane prices following the report, but it didn't occur. From the release of the inventory report through the end of the week, propane markets stayed steady, calm and composed. There was no knee-jerk reaction, and prices were more on the neutral-to-bearish side.
That tells us that propane buyers are fully aware that propane fundamentals are firmly on their side. Inventories are near last year's record highs for this time of year. Strong demand for propane exports has waned. There have been reports of buyers of U.S. propane exports canceling cargoes, deferring cargoes and, in a few cases, walking away from long-term contracts.
Buyers have the luxury at this point of waiting on more data to confirm any possible trend change in U.S. propane inventory builds. Crude is in a downtrend that began on June 8 and is showing signals of breaking below a $45 floor for West Texas Intermediate crude that had been loosely established over the last week and a half.
At least for now, it looks like any change from the current downtrend in propane prices to an uptrend could be orderly and controlled. Propane retailers need to stay dialed into the market. As the demand chart above shows, from this point forward domestic propane demand is likely to be on an upward trending pattern – even though there will be weekly volatility as there always is in the demand numbers reported by EIA. As domestic demand increases, inventory levels could slip further behind last year if propane exports recover.
Several weeks ago, we said to be prepared for a potentially volatile period in propane prices as they rise and fall depending on export demand. We have reached prices now where that demand could start swinging upward again. Given the time of the year, retailers want to be on the watch for that upswing so they can get ahead, as it would almost certainly drive prices higher.
For now, a calm, controlled market is exactly what propane retailers need to make good, calculated decisions about their supply for this winter, and that is exactly what they are getting.
For more Cost Management Solutions analysis of the energy market that helps propane retailers manage their supply sources and make informed purchasing decisions, visit www.lpgasmagazine.com/propane-price-insider/archives/.