Reliability builds propane load
Propane is now the most reliable energy for everyone, but it wasn't always that way.
In fact, reliability was a perceived weakness for propane in the early years. Back then, propane production was heavily dependent on the refining of imported crude oil, and a large percentage of propane was also imported from foreign sources. Propane was the tail-end of the oil barrel and didn't receive a lot of attention even though there was a growing demand for this unique source of gas energy. The storage and distribution network was subject to interruptions due to demand pressures from weather-related events, heavy crop drying seasons and equipment breakdowns.
What a difference a couple of decades has made for propane reliability. Propane production advances began about 20 years ago with the improvement and increased use of hydraulic fracturing in gas and oil well drilling. Crude oil, methane and natural gas liquids production, including propane, increased greatly and quickly turned the U.S. into a net exporter of propane. We've never looked back. The propane industry scrambled and filled in storage and distribution gaps created by propane production in non-traditional areas such as Pennsylvania, Ohio, West Virginia and North Dakota.
Propane retailers can now have confidence in building a reliable supply plan to satisfy annual customer propane needs. Retailers are investing in the latest delivery equipment and technologies, such as routing and scheduling software and fuel supply monitors, and making it all work together with a better trained essential workforce.
Workforce recruiting is easier when prospects understand that reliable energy creates reliable careers. Propane customers no longer have to wonder about the reliability of propane service when they want their propane providers to keep usable levels of propane in their tanks. Propane is there, on-site, before they need it.
Unreliable electricity
Let's look at where electric energy is today and where it seems to be heading. The U.S. electricity consumption paused in 2020 at 4.407 kilowatt-hours per capita due to pandemic-related slowdowns, but marched upward in 2021, and consumption continues to outpace annual electricity production increases. The U.S. consumes more electricity overall than any other country except China. As electrification mandates seek a larger footprint in the housing and automotive market, the lag in electricity production is only going to worsen.
Already we have massive power outages occurring across the nation. Some outages are from storm damage along the outdated grid, while voluntary conservation demands, or mandatory rotating power outages – sometimes referred to as controlled load sheds – usually deal with electricity supply issues. Controlled load sheds are becoming a common occurrence across the country, particularly in areas where base power plant electricity production has been shut down in favor of solar or wind alternatives.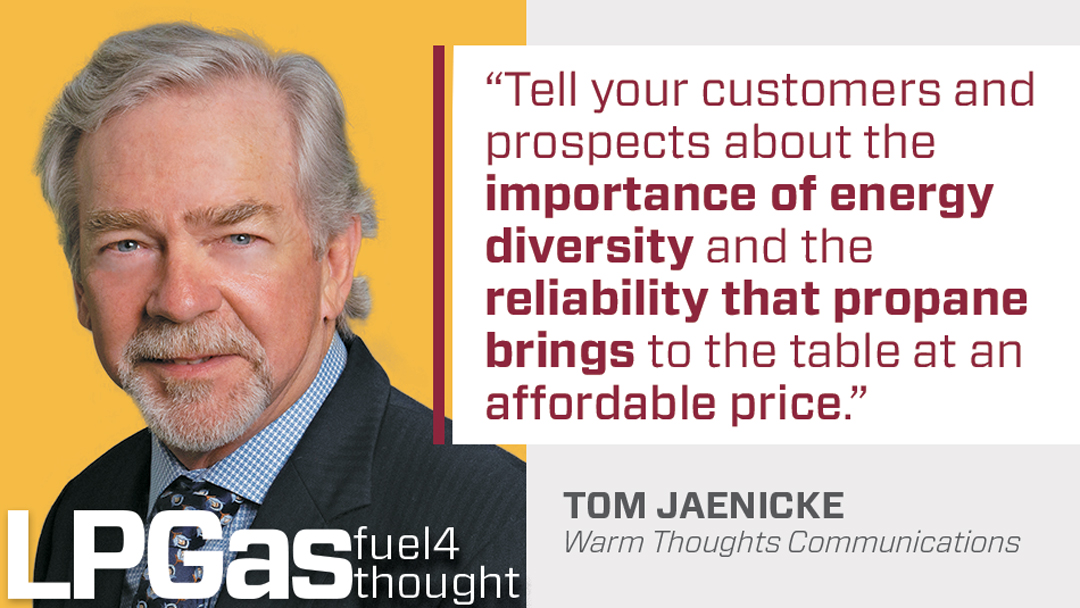 California is a good example of mandated electricity usage and widespread and frequent rolling blackouts. California residents account for 40 percent of all electric vehicle purchases currently, and residents are mandated to purchase only electric vehicles by 2035. Mandated electrification and mandated load sheds are an energy oxymoron. Electricity's future is our past.
Propane is in the lead on energy reliability and pulling away from the field. Tell your customers and prospects about the importance of energy diversity and the reliability that propane brings to the table at an affordable price.
Don't allow them to be overrun by electric mandates. Double down on reliability by encouraging the installation of propane standby generators to back up the electricity shortages. Lights out? Step back electricity. Propane has got this.
---
Tom Jaenicke is vice president of propane marketing services for Warm Thoughts Communications. He can be reached at tjaenicke@warmthoughts.com or 810-252-7855.