Residential propane prices similar to 2021 heating season start
Propane prices during the first month of the current winter heating season were essentially unchanged compared with prices at the same time last winter, according to the U.S. Energy Information Administration (EIA).
The U.S. residential price of propane averaged $2.66 per gallon in October 2022, the same as the average price in October 2021, according to EIA's Heating Oil and Propane Update. As of Oct. 31, the U.S. residential price of propane averaged $2.67 per gallon, down 6 cents from the previous year.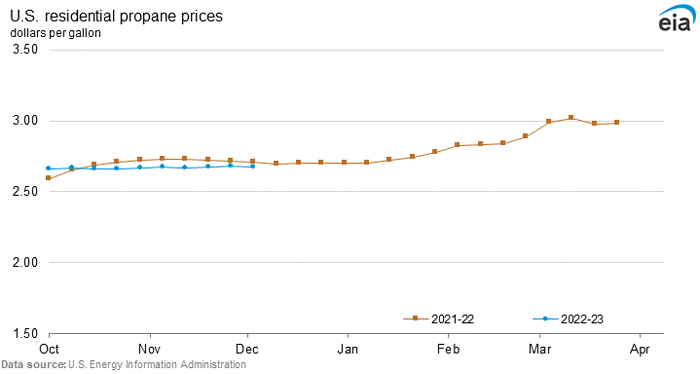 Last winter, strong heating consumption and increased global demand for propane contributed to low U.S. propane inventories and high propane prices. This year, propane inventories are higher, but retail prices have changed little.
As of Nov. 4, U.S. propane inventories were 14 percent higher, at a total of 87.7 million barrels, compared with the same week in 2021, according to EIA's Weekly Petroleum Status Report.
"When it comes to the winter, we're well supplied to this point," reports David Appleton of Argus Media during the World LPG Association's LPG Week in November. "We could see an uplift in prices January to March, but there's a lot of product out there."
At this point, Appleton says, the winter will be the key driver of global prices.
"It has to now be a heavy winter to see a strong uplift in prices."
In the latest update of its Winter Fuels Outlook forecast, the EIA expects households that use propane as their primary source of heating fuel will pay about the same amount for heating this winter compared with last winter. Propane prices are generally highest in New England and lowest in the Midwest.
Brian Richesson is the editor in chief of LP Gas Magazine. Contact him at brichesson@northcoastmedia.net or 216-706-3748.