Six tank monitoring takeaways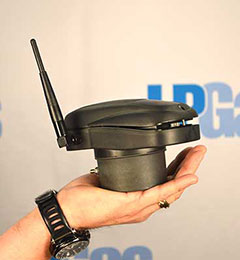 Tank monitoring has been a hot topic lately among propane marketers. But how monitors operate and the kind of savings marketers can realize from monitors are questions the industry continues to explore.
To address these areas, LP Gas caught up with Mike Vigliotti, tank monitor sales specialist at Bergquist, who answers six tank monitoring-specific questions for marketers.
LP Gas: How do tank monitors operate?
Vigliotti: There have been many changes in monitoring over the last several years, from the days of using landlines. Today, the main options are cellular and satellite. These options provide reliable coverage. A critical measure of today's tank monitors is the battery life, [meaning] how many calls can they make before needing replacement. Some units will see anywhere from eight- to 10-year battery life.
LP Gas: What kind of savings can be realized from monitoring?
Vigliotti: Analysis shows the average delivery is 37 percent of the tank's water capacity. When properly done, one would expect to see an increase to 55-plus percent. The results from monitoring can be dramatic by greatly reducing your distribution cost. Propane retailers can increase their gallons per delivery, reducing the number of deliveries made per customer, per year; reducing out-of-gas deliveries, saving time on leak tests, reducing driver stress and potentially eliminating safety concerns associated with out-of-gas calls; and improving customer service and customer loyalty.
LP Gas: How should propane retailers go about selecting the customers' best fit for tank monitors?
Vigliotti: A detailed business analytics program will show where you would get the best return for monitoring. You can also look at the customers who are hard to predict, such as those with heat pumps, wood burners, pool heaters and standby generators.
Monitoring can also lead to an opportunity to move will-call customers to automatic delivery, putting you in control of deliveries and routing.
LP Gas: Along with tank monitors, what else can help retailers reduce distribution costs?
Vigliotti: Integrating your monitor package with your back-office software, and combining forecasting, scheduling, ticketing and routing will play a key role in reducing your distribution costs.
LP Gas: Why do we hear of monitoring going stagnate with some companies after they get started?
Vigliotti: Despite all the promise with monitoring, there are some key things needed to make it a success. The most important thing is getting your organization to respond to the change. We are creatures of habit and will tend to keep the status quo. Get the employees involved so they have some ownership in the program.
Also, training is important. Make sure all key staff who will be involved are properly trained, including management, office staff, service techs and drivers. Setting metrics for staff members and continuously analyzing progress to measure the impact monitoring is having on your operation is also key.
LP Gas: What's next for tank monitoring?
Vigliotti: As technology continues to progress, cost and communication fees will come down. The "Internet of Things" is what is changing the world. We now have smartwatches, smart furnaces and thermostats. Electric companies offer discounts to control your thermostat during peak cooling times. The homeowners of tomorrow will continue to want more choices to control and monitor their energy costs.
Kevin Yanik was a senior editor at LP Gas Magazine.