U.S. propane gallon sales continue to fall; California retains top spot
Total U.S. gallon sales of odorized propane as well as propane sold in the residential sector declined for the fifth straight year in 2012, according to the latest report from the American Petroleum Institute (API).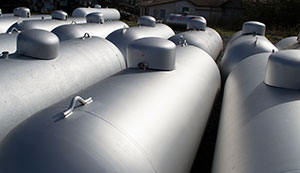 API's report, titled "2012 Sales of Natural Gas Liquids and Liquefied Refinery Gases," shows total retail propane gallon sales at 7.7 billion gallons, a near 13 percent drop from the previous year.
"2012 was very warm all year round – that had a real fundamental impact on sales," says Mike Sloan, principal at ICF International. "That's the primary reason why we see the very large drop in sales in the API survey."
The overall decline started after 2007 when sales, measured across the residential, commercial, agricultural, internal combustion and industrial sectors of the industry, amounted to 10.3 billion gallons. Propane sales topped 12 billion gallons in 2000.
Sloan says he expects sales to rebound significantly in the 2013 report – an increase of about 950 million gallons compared to 2012, reflecting colder temperatures and high demand for crop drying.
In a state-by-state breakdown from the latest report, California led the way in sales for the fifth straight year with 489 million gallons, though its sales declined for the second straight year, this time by 15 percent.
North Carolina (406 million), Michigan (387 million), Illinois (356 million) and Texas (325 million) rounded out the top five in state propane sales. The only change in the top five from the previous year occurred at No. 5, where Texas moved up from No. 8 to replace Pennsylvania, which fell to No. 7 with 317 million gallons in sales.
The only states experiencing gallon growth from the previous year were Alaska, Georgia, New Hampshire and Vermont, as well as Washington, D.C. Arizona and Tennessee experienced the biggest decreases in gallon sales from the previous year, at 27 and 26 percent, respectively.
When examining the API numbers, Sloan cautions about drawing conclusions from year-to-year changes in state and end-use volumes because of possible inconsistencies in how companies report data. He suggests looking at results over several years.
In a breakdown by individual sectors, Michigan continued its dominance in the residential market by holding the top spot with 288 million gallons in sales, followed by California (214 million), Wisconsin (207 million), Illinois (194 million) and Minnesota (180 million).
The residential propane market has been hampered in recent years by the economy and a down housing market, competing energies and customer conservation – factors all contributing to the five straight years of declining propane sales. Residential propane sales in 2012 totaled 4.07 billion gallons, a 19 percent drop from the previous year. The recent decline started after 2007 when sales topped 6 billion gallons.
In the commercial sector, California led the way with about 94 million gallons in sales, followed by Florida (91 million), Texas (76 million), North Carolina (75 million) and Pennsylvania (70 million).
Iowa was the top state seller of propane to the agricultural sector with 120 million gallons, followed by North Carolina (97 million), Minnesota (70 million), California (52 million) and Illinois (50 million). The top five states in this sector made up 48 percent of total agricultural propane sales.
Sales to the internal combustion engine market, at 615 million gallons, increased nearly 25 percent from 2011, while the industrial sector declined 21 percent, totaling 508 million gallons.
Sales of natural gas liquids and liquefied refinery gases totaled about 44 billion gallons in 2012, a 2 percent increase from the previous year. Propane represented about 41 percent of those sales (though actually declining 0.7 percent from 2011), with ethane at 35 percent, butane about 16 percent and pentanes-plus 8 percent.
API sponsors the report in conjunction with the National Propane Gas Association, the Propane Education & Research Council and the Gas Processors Association.
Photo: American Petroleum Institute
Brian Richesson is the editor in chief of LP Gas Magazine. Contact him at brichesson@northcoastmedia.net or 216-706-3748.