US exports rising, changing Latin American market
U.S. propane exports continue to outpace prior years' levels. According to the U.S. Energy Information Administration (EIA), propane exports reached a record high of 913,000 barrels per day (bpd) in the first half of 2017. This is up about 100,000 bpd from the first half of 2016, which saw export levels at 790,000 bpd.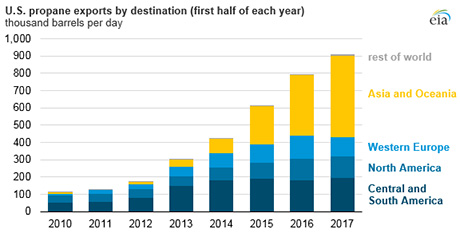 Much of the increase is fueled by U.S. exports to Asia (see the chart above), which, according to EIA, accounted for 74 percent of the growth since the first half of 2016. Though many countries are now relying on the United States for propane, Asian markets make up a majority of the destination countries for U.S. propane exports, EIA says.
Propane is used primarily for residential and commercial cooking and heating in Asia, Africa and other regions such as Latin America. However, it can also be used as a feedstock for chemical production, which further increases the global demand for propane.
With U.S. exports already at an all-time high, a new factor is expected to increase the demand for U.S. propane. A shift in energy policy in Latin America has opened its market to greater import volumes.
According to IHS Markit, the opening of the Mexican energy industry to private investment has dramatically shifted the trade balance and altered how regional propane companies must compete. Additionally, the recent expansion of the Panama Canal allows for transport of greater, cheaper volumes of propane.
According to Adrian Calcaneo, senior consultant and the lead for the Latin America and the Caribbean NGL Service at IHS Markit, "For nearly 70 years, Latin American producers and marketers of LPG operated in a relatively closed market with prices controlled by the state, so they didn't concern themselves with the global market."
However, with the privatization of energy industry investment, this has changed. Producers and marketers must now consider market competitors, such as Asia, when it comes to prices. The region is becoming more dependent on U.S. imports for propane, according to Calcaneo.
"Large quantities of cheap LPG supplies are coming from the U.S. and it is changing the balance of trade and pricing for both importers and exporters," he says. "Mexico and Brazil are net importers, and are importing at Mont Belvieu prices. Argentina, on the other hand, is an exporter of LPG, but it must compete with cheaper Mont Belvieu prices."
Mont Belvieu prices are currently the lowest, and therefore they have become the benchmark against which all other exporters must compete. Low prices also make Mont Belvieu product the most desirable to countries looking to import propane.
Argentina, which supplies propane to Chile, must now compete with exports from the U.S. Not only are U.S. prices lower, but also the bigger ships coming through the Panama Canal allow for increased volumes of propane to be transported to the west coast of Latin and South America. According to Calcaneo, 35 percent of the traffic going through the Panama Canal is propane cargoes.
Any domestic propane production that exists in the region will go first to residential and commercial demand because that market pays the most. Regional producers, however, are still considering other possible uses for excess production or imports of other natural gas liquids (NGLs), including the use as petrochemical feedstocks, IHS Markit says.
"While a very small percentage of propane is actually being used in the region for petrochemical feedstock, the petrochemical market is seeking alternative supplies for feedstock derivatives, and NGLs from the U.S. are increasingly becoming more attractive," said Rina Quijada, Ph.D., senior director of Latin American petrochemicals and feedstocks research at IHS Markit. "The larger ships coming through the Panama Canal create better economies of scale, and those imported NGL cargoes are cheaper."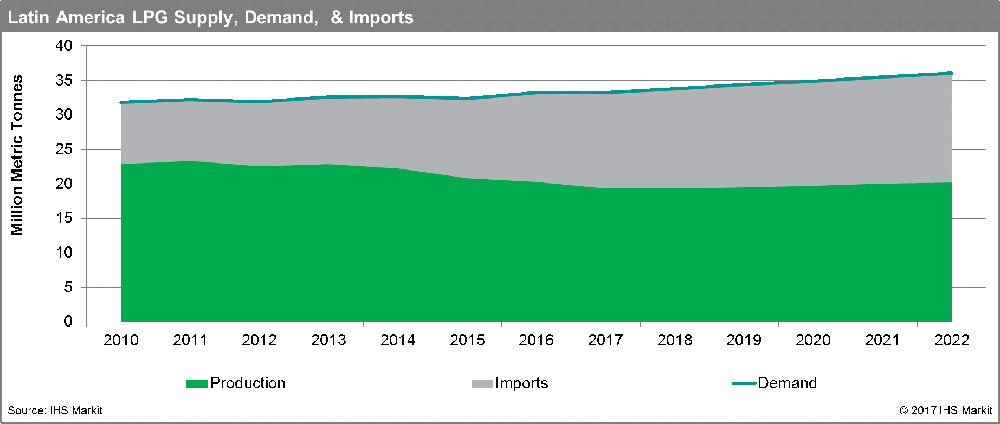 According to Quijada, Argentina, Mexico and Brazil will increasingly rely on the U.S. for the additional NGLs they need for petrochemical production.
IHS Markit held discussions addressing these major market shifts Nov. 7-9 at the Latin America LPG Seminar and Workshops 2017 in Panama City, Panama.
Clara Richter was a managing editor at LP Gas magazine.