What to remember in propane cylinder transportation
Transporting propane cylinders is a task most of us, or our customers, have done countless times.
Every individual who utilizes a propane grill, powers a generator or needs propane to heat home space or water has had a tank refilled and placed into a personal vehicle.
But are your customers doing this the right way? To be more specific, are they doing this the safe way?
Propane retailers should take it upon themselves to educate customers about safety practices for transporting propane cylinders. Let's consider a few key points to make sure they understand before driving off your lot.
A person must carry no more than four propane cylinders in a sedan or SUV at one time. No single cylinder should contain a propane capacity of more than 45 pounds, and the total combined weight of all the cylinders in an enclosed vehicle should not exceed 90 pounds. All propane cylinders must be secured in the vertical and upright position.
The safest way to secure a propane cylinder in a vehicle is with a trusted propane tank holder and stabilizer. These tank holders fit tightly around the propane cylinder – or lock into the cylinder's foot ring – making them safe and secure.
Many people prefer using a milk crate. Crates are sturdy and will keep the cylinders in the vertical position. Securing a propane cylinder with rope, twine or a ratchet strap is also acceptable, but make sure customers have a good anchor point in their car.
Customers may transport up to 1,000 pounds of propane in the back of an open pickup truck or trailer. However, the propane cylinders must still be transported in the vertical and upright position.
A 100-pound propane cylinder is heavy and should be loaded carefully and with the help of another person. A full 100-pound cylinder can actually weigh up to 180 pounds, so be sure to assist customers in getting these into the back of their truck or trailer safely.
Once the propane cylinder is loaded into the back of the truck, find the anchor points. Educate your customer to use twine, rope or other tie-downs to secure the cylinder at the base, near the foot ring and at the top to secure the cylinder in the vertical, upright position. There are ratchet straps and other tie-downs available for people who are not comfortable tying knots.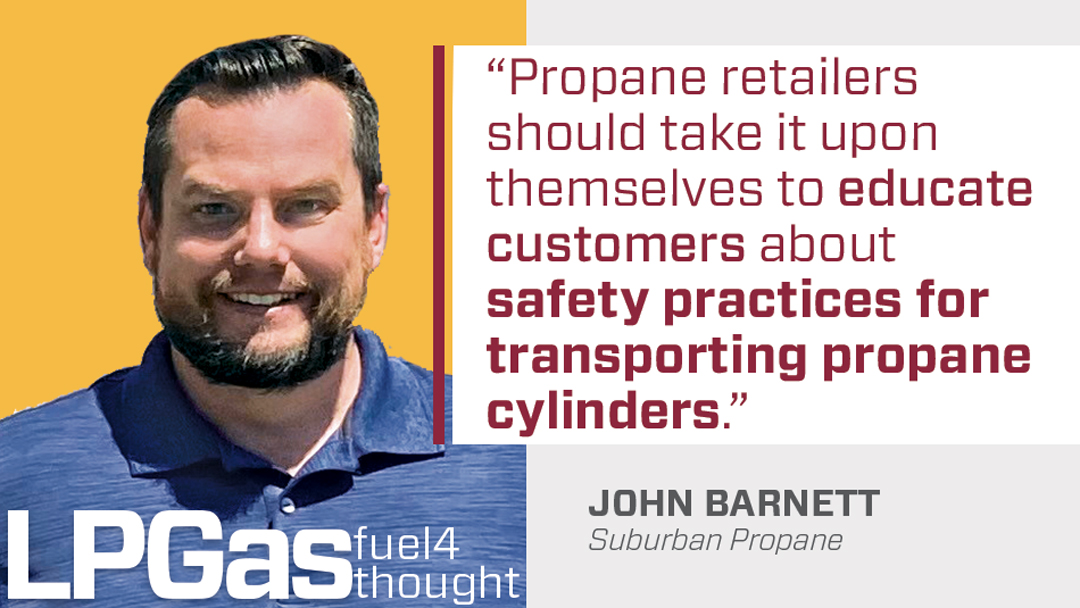 Though forklift cylinders are designed to be used in the horizontal position, make sure customers know the cylinders should still be transported in the vertical position. When secured to a forklift, there is a pin that locks the cylinder into a specific position, keeping the pressure relief valve in the vapor space of the cylinder. If transported on its side, the cylinder may roll and shift the pressure relief valve to the bottom, in the liquid space of the cylinder.
If a customer is trying to transport a 100-pound propane cylinder in a sedan or SUV, or if the customer positions the tank on its side, take a moment to educate customers on why this is not safe and the hazards that could come from improper transportation of a propane cylinder. Help them correct their mistake or keep their cylinder for them until they can return with the proper equipment and/or vehicle.
For your safety – and that of your customers – always perform a quality pre-fill inspection before filling a cylinder and wear personal protective equipment at all times.
These are just a few tips to keep in mind the next time you sell or fill a propane cylinder. Safety should always be priority No. 1, and that begins with propane knowledge.
---
John Barnett is autogas sales representative for Suburban Propane.
NOTE: The opinions and viewpoints expressed herein are solely the author's and should in no way be interpreted as those of LP Gas magazine or any of its staff members.