Wi-Fi remote-control system connects users to Navien systems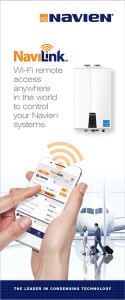 Navien's newest product, NaviLink, is a Wi-Fi remote-control system that allows commercial and residential users to communicate with their Navien systems anywhere in the world. According to the company, NaviLink attaches easily to all Navien water heaters and boilers, including the NPE, NCB and NHB series. Once it's installed, users can download the free NaviLink mobile application on their smartphones or tablets. From there, they can control temperatures remotely, accessing usage data and receiving diagnostic notifications, Navien adds.

Allison Kral is the former senior digital media manager for LP Gas magazine.