2020 propane sales report reflects impacts of pandemic
Record-high temperatures in parts of the U.S. and slowdowns in economic activities owing to COVID-19 impacted annual U.S. retail propane gallon sales in 2020.
Even with the influence of warmer weather conditions and a pandemic, sales surpassed 9 billion gallons, according to a report conducted by Frost & Sullivan on behalf of the Propane Education & Research Council (PERC).
The report tracks U.S. odorized propane gallon sales by state and end-use sector and is the latest sales data available to the industry.
Here are our takeaways from the report.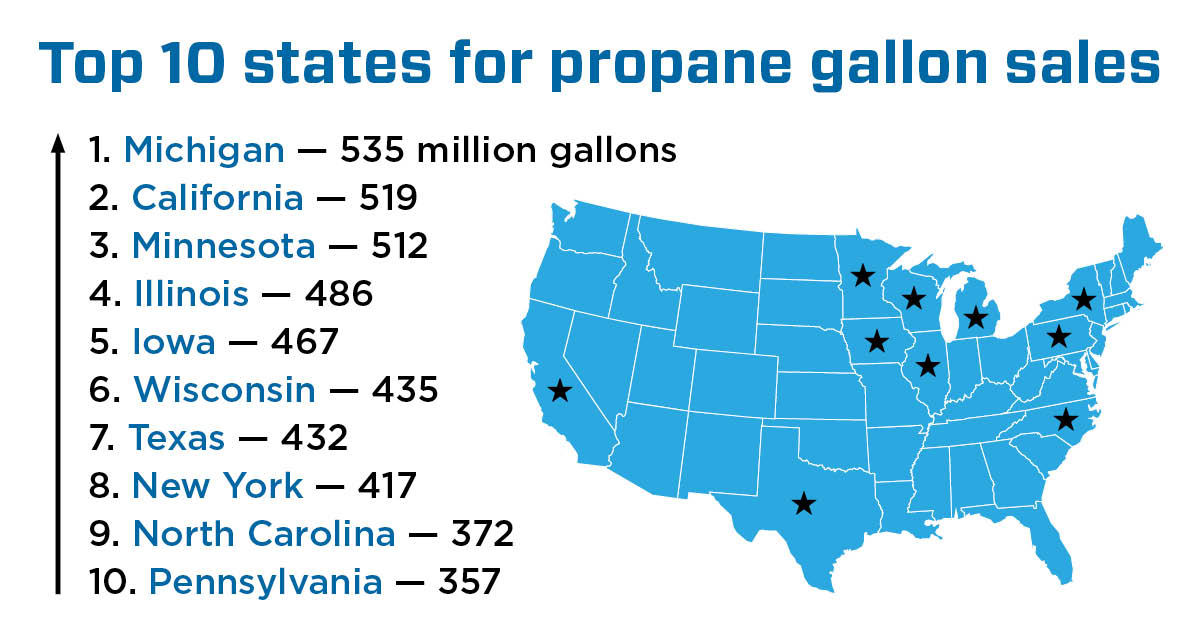 Total gallon sales: Propane gallon sales had risen for three straight years, topping 10 billion in 2019, before a 7 percent year-over-year decline in 2020 dropped gallon sales to 9.44 billion. That's still an impressive number, which places total sales for the year 8.5 percent above the 10-year average of 8.7 billion. Weather was partly to blame for snapping the streak as average heating degree-days fell by 6 percent across all states. Frost & Sullivan says the drop in gallon sales is consistent with a drop in U.S. energy consumption for the year.
By region: Propane sales decreased across all regions in 2020, with sales by the largest consumer of propane (the Midwest) dropping the most (9.2 percent) from 2019. A decrease in grain drying demand due to early maturity of the U.S. corn crop contributed to the decline. Notable elsewhere, the South continued to lose market share to electricity for household space heating, according to the report. When considering Census divisions, the East North Central, composed of Illinois, Indiana, Michigan, Ohio and Wisconsin, sold the most gallons – more than 2 billion or about 22 percent of total sales.
Market sectors: Residential, which accounts for 54 percent of total sales, experienced the largest decline in gallon sales (13 percent), while agriculture also saw a significant drop (about 10 percent). The commercial market, however, saw a 10 percent gain in gallons, which the report's authors attribute to the health care field's need for more room heating and hot water in hospitals. They also note propane's role in heating outdoor COVID-testing sites. Cylinder market sales performed well, owing to new demands from the pandemic and 22 weather and climate disaster events. The commercial sector accounted for 23 percent of total sales.
State sales: When comparing states, Michigan ranked first in total gallon sales for the third straight year. Here's a look at the top 10, which accounted for 48 percent of total U.S. propane sales:
Michigan – 535 million gallons
California – 519
Minnesota – 512
Illinois – 486
Iowa – 467
Wisconsin – 435
Texas – 432
New York – 417
North Carolina – 372
Pennsylvania – 357
Michigan also held a firm grip on residential market sales, while Texas controlled the commercial market and California topped the cylinder and internal combustion sectors. Iowa remained No. 1 for agriculture sales.
Petchems: The report briefly highlights propane's use in the petrochemical sector, as a feedstock in steam cracking facilities and propane dehydrogenation facilities. Non-odorized propane sales to petchems in 2020 totaled 4.87 billion gallons – about 52 percent of total U.S. retail propane sales. Texas sold about 82 percent of these gallons, used to produce ethylene and propylene.
Frost & Sullivan conducted the report for the first time after PERC had contracted with ICF for the 2017-19 reports and, for about 20 years prior, jointly sponsored the report with the American Petroleum Institute, the National Propane Gas Association and GPA Midstream.
PERC uses the gallon sales report to help determine the amount of rebate funding that each state receives from the council – based on the percentage of total odorized propane sales in each state. By law, it must remit 20 percent of its assessment collections back to the states.
Propane marketers can view the full report at propane.com/salesreport. While there, marketers are asked to complete their report for calendar year 2021 through May 31.
Featured homepage image: tttuna/E+/Getty Images
Brian Richesson is the editor in chief of LP Gas Magazine. Contact him at brichesson@northcoastmedia.net or 216-706-3748.