Edmonton propane price's overall effect on supply, demand
The price discount of Edmonton propane to Conway propane is lessening as Canadian supply gets tighter.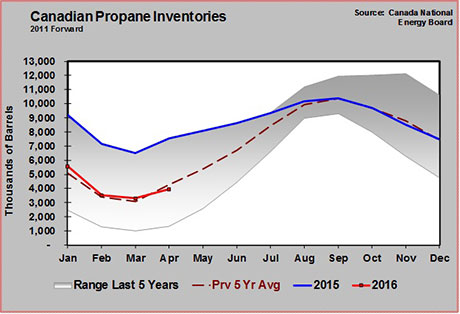 The chart shows Canadian propane inventory slightly below its five-year average. That is a stark contrast compared to the record-setting levels seen at this time last year.
In the March 14 issue of Trader's Corner, we discussed the changing situation in Canada and made the following observations:
"In addition to pulling inventory down (last winter), Canadian producers had more barrels to export as they had perhaps anticipated the mild winter and crop-drying season. In addition to the inventory drawdown, they dumped another 867,000 barrels into exports as they aggressively moved barrels south.
CMS credits them for being aggressive and cleaning up their inventory position even in a mild winter. With inventory now at about average, a likely stronger winter next year and decreased drilling activity, we do not expect the same aggressiveness in 2016.
We think that will favor the odds of a firmer propane pricing structure from Canada this year. A U.S. retailer looking for the bargain basement prices they got last summer may be surprised when those deals aren't available this year."
Currently, the spread between Conway and Edmonton has dropped to 26 cents down from 33.5 cents in early April. At this point last year, Edmonton was trading at minus 40 cents at Conway. In fact, Edmonton posted a negative daily average of -1.625 on May 22, 2015. Currently, Edmonton is trading at 24.25 cents.
It is possible that the wildfires are adding to the improvement in Edmonton, but the improving relative value trend for Edmonton was already in place before the wildfires began. When we look at the big four propane trading hubs of Mont Belvieu, Conway, Sarnia and Edmonton, it is Edmonton that ranks last in price.
We can look to Edmonton to get a good idea of how the supply and demand picture is running for propane overall. Obviously, last year supply and demand conditions were very bearish, but today's prices in Edmonton suggest tighter propane supply conditions exist currently.
Although it may not feel like it with propane inventory in the U.S. still at record highs for this time of year, inventory conditions are tighter in Canada and the United States has more propane export capacity than it did at this time last year. Those facts, along with higher crude prices, are being reflected in the current 50-52 cent U.S. propane market compared to the 40-45 cent market at this time last year.
For more Cost Management Solutions analysis of the energy market that helps propane retailers manage their supply sources and make informed purchasing decisions, visit www.lpgasmagazine.com/propane-price-insider/archives/.