Find top propane talent online
The propane industry faces workforce development challenges, and retailers are looking for new ways to find talent.
Digital recruiting strategies can be used to find more employees and work toward building a strong workforce at your propane company.
Effectively using job boards and recruiting websites can be a challenge. Some of the most popular websites for job searches include Indeed, Glassdoor, Monster, ZipRecruiter and LinkedIn.
Similar to difficult social media algorithms, recruiting websites with a pay-to-play model reward accounts that use advertising dollars on promoted job listings.
Mike Dodd, CEO of Propane Ninja, says it's been a challenge using recruiting websites to get through the job market and to the right candidates. He shared some of the strategies his company has used to stand out and find success with hiring.
Posting preparation
Before posting to the job boards, it is worth evaluating your company's offerings, job descriptions and overall benefits.
"The biggest way for us to stand out was to change the way we pay. This year, our company changed from hourly pay to a performance-based pay," Dodd says.
The new pay structure allows Propane Ninja to advertise higher rates of pay on recruiting websites. In order to receive an above-market rate, the employee must perform at the required skill level.
"Ultimately, we are going to need to pay our workers more, or offer a higher rate of pay, in order to attract better skilled employees," he says.
Changing up the job title for the open position can also put your listing in front of new job seekers. Test the success of different keywords in job titles to see what individuals are searching for.
In some cases, being less specific helps. Advertising for a general plumber can help capture more applicants. Your company can always offer the training needed for the specifics on gas plumbing.
Dodd says he has had success hiring outside of the propane industry. When writing a job description, he suggests looking at other service-based companies to emulate.
Alongside recruiting websites, be sure to share job openings with your current staff and post listings on your company website.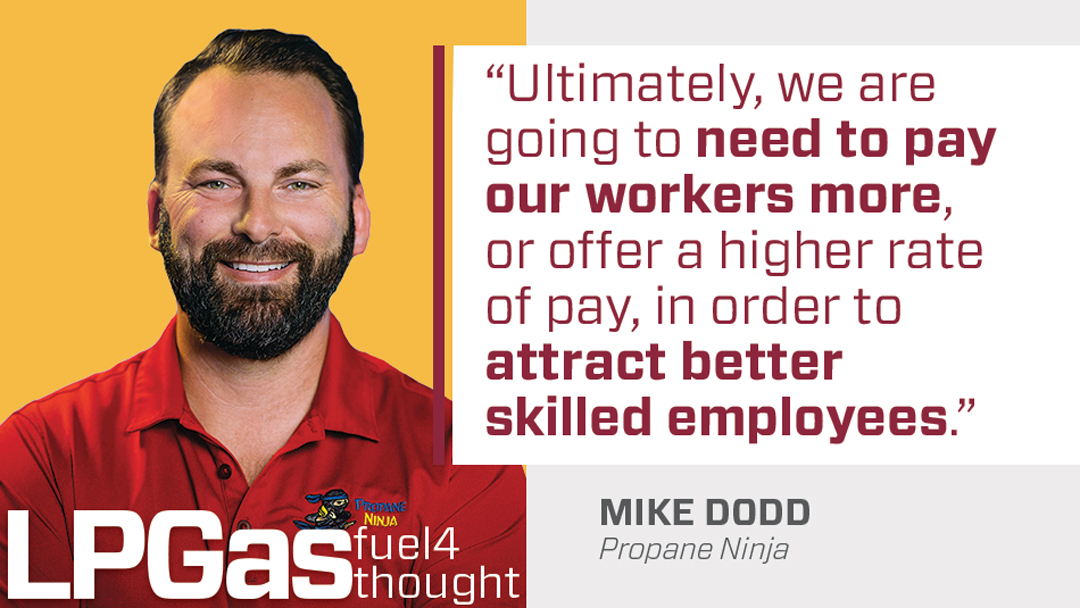 Responding to applicants
Once you have posted a job listing on a recruiting site, it's important to have your hiring process ready to go.
Stay current on your applicants, and respond quickly when resumes start arriving.
Dodd says candidates are receiving a high volume of emails, so Propane Ninja takes an extra step: "We make personal phone calls to set up a one-on-one interview with the candidates. Having the personal connection is even more important than it was before."
In a market where it can be tough to retain employees, Dodd says, propane retailers must be actively involved and invested in their employees' success.
"It comes back in dividends with people believing in your company, believing what their position is and having faith that they're doing the right thing in their life," he says.
Industry resources
Lpgasjobs.com: Job opportunities in all levels of the propane industry are posted from across the U.S. on this industry-specific job board.
Vets2Techs: Veterans and transitioning military job seekers can find career opportunities and training within the propane industry.
GeneratioNext Propane Pros: Students who may not have the experience required to be a licensed professional are able to use the site to find internships and apprenticeships.
Danielle Pesta is the senior digital media manager for North Coast Media, the parent company of LP Gas. She can be reached at dpesta@northcoastmedia.net.