Golf benefit with propane roots celebrates 15 years, expands outreach
After losing his grandfather, father and paternal uncle to prostate cancer, Scott Murray became diligent about prevention and early detection.
The retired sports anchor and broadcast journalist from Dallas followed every guideline to get a prostate specific antigen (PSA) screening two or three times a year.
"I knew I was a walking billboard for that disease, so I was always very focused on making sure that I did whatever I needed to do to make sure that I didn't get this insidious disease," he says.
But if it hadn't been for one vocal doctor at one of Murray's speaking engagements, Murray wouldn't be here today.
That doctor, head of urology at UT Southwestern Medical Center, encouraged Murray to take an additional PSA test. It came back negative. Given Murray's family history, the doctor recommended a biopsy.
The results were startling: Murray had prostate cancer in both lobes of his prostate, and it hadn't shown up in any PSA screening. He was in his late 40s.
Murray's story is not every prostate cancer survivor's story. For most individuals, a routine PSA screening goes a long way toward early detection of the cancer.
But Murray's story highlights the importance of staying educated and proactive in managing one's unique medical history and risk factors.
It's all in your hands," he says. "Just be as aggressive and smart as you can be so that you can beat it to the punch."
It's a message Murray will share at the 15th annual Pros4Care Golf Tournament, scheduled for Oct. 9 in Farmers Branch, Texas.
Milestone celebration
This year's golf benefit is Pros4Care's second as part of ZERO Prostate Cancer, a national nonprofit that promotes awareness and provides support for patients and caregivers. Money raised at the event will go toward new medicine and research, as well as resources for patients.
ZERO Prostate Cancer has enabled Pros4Care to amplify its message and expand its outreach beyond its propane industry roots.
Pros4Care was founded in 2006 by propane industry members Ed Varney, now owner of Top Line Management; Pat Hyland of the Propane Education & Research Council; and Bill Powers, formerly of Heritage Propane.
Over the past 15 years, Pros4Care has raised more than $300,000 for the cause and has supported a dozen propane industry members who received a prostate cancer diagnosis, says Varney.
"We've helped them through the process, whether it's education or helping find the right doctor, getting emotional support or financial support," he explains.
Varney, who also serves as president of the North Texas Prostate Cancer Coalition, looks back with gratitude at how far Pros4Care has come.
"Looking back, it's a lot of work, a lot of dedication, a labor of love, and it's worth every minute of it," he says.
None of it would've been possible without the support of many suppliers, marketers and manufacturers in the propane industry, notes Varney. Their efforts have enabled the organization to extend its reach.
"There are still a lot of propane people involved," Varney adds. "But the message is not just propane anymore. That's how we started, but we've grown as part of ZERO into a much bigger organization."
Last year's event, the first with ZERO Prostate Cancer, drew about 100 golfers and raised $36,000 for prostate cancer awareness. This year, Varney and the ZERO team expect a sell-out, and $0.85 of every dollar will go toward patient programs, educational materials and advocacy.
The event is not just about funding, though. It's also about awareness.
Each individual who hears about the cause or benefits from support as a patient or caregiver tends to share that awareness and become an advocate themselves, observes Varney.
That's how Murray has moved forward with his life. After his diagnosis, he found the right doctor, had a successful surgery and now lives cancer-free. He's chairman and CEO of his own media production company, remains active in numerous charitable organizations and is a sought-after keynote speaker.
He strives to live by his motto: "Live your life as a go-getter, but share your life as a go-giver."
Those propane industry members who have supported Pros4Care have been living that adage for 15 years and counting.
Did you know?
September is Prostate Cancer Awareness Month. It's a time to support awareness and research. To find resources, events and opportunities to donate, check with local hospitals and health organizations, as well as charitable groups such as ZERO Prostate Cancer and the Prostate Cancer Foundation.
U.S. statistics
288,300 new cases of prostate cancer are expected to be diagnosed in 2023.
A man is diagnosed with prostate cancer every two minutes.
One in eight men will be diagnosed with prostate cancer during his lifetime.
Prostate cancer is the second-leading cause of cancer death in men.
34,700 men are expected to die from prostate cancer in 2023.
A man dies from prostate cancer every 15 minutes.
Today, there are more than 3.1 million prostate cancer survivors.
The relative five-year survival rate for prostate cancer diagnosed in its earliest stages is nearly 100 percent.
The five-year survival rate for advanced or metastatic prostate cancer drops to 32 percent.
Black men are 1.7 times more likely to be diagnosed with prostate cancer and 2.1 times more likely to die from prostate cancer than white men.
Source: ZERO Prostate Cancer
Support ZERO Prostate Cancer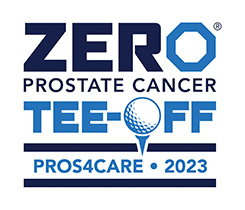 What: 15th annual Pros4Care Golf Tournament to benefit ZERO Prostate Cancer
When: Monday, Oct. 9
Where: Brookhaven Country Club in Farmers Branch, Texas
Register: zerocancer.org/tee-off-farmersbranch
Speaker: From U.S. presidents to U.S. Opens, the World Series to the World Cup, the Olympic Games to 35 Super Bowls, Scott Murray has covered them all as a multi-Emmy Award-winning television sports anchor and broadcast journalist. Murray was named Sportscaster of the Year 17 times by various news organizations. He has been recognized as a Living Legend of Journalism by the Press Club of Dallas and is a recipient of the Silver Circle Lifetime Achievement Award from the National Academy of Television Arts and Sciences. Upon retiring from the nightly news at NBC5, Murray was asked to return to the TV station to host the weekly public affairs and philanthropic program, "Talk Street," for over eight years. Murray co-founded Murray Media World with his son, Doug, and serves as chairman and CEO. He also has served as host of hundreds of TV specials, master of ceremonies at thousands of live events and charity galas, as well as both keynote speaker and moderator at hundreds of corporate conferences and industrial conventions. Today, Murray remains a sought-after keynote speaker and is a published author of two books: "Whatever It Takes: Life Lessons Learned Through Sports Legends" and "Bring Out the Best."