In the Know: Get your name known through marketing efforts
In the Know is a monthly partnership between LP Gas and Propane Resources. Our focus this month is on promoting your propane business through marketing efforts, addressed by marketing and communications director Tammy Day.
---
QUESTION: How does a propane retailer get its business name known through marketing efforts?
ANSWER: With summer providing a bit of a breather after the busy heating season, take this opportunity to turn your thoughts to marketing.
Summertime is the ideal time to prepare for the busy delivery season coming upon us in just a few short months. When the time comes for consumers to start thinking about who to trust with their gas needs for the winter, will your business's name be at the top of people's minds and search results?
Here is a quick list of items to consider to be sure your company name is in the public eye:
Get listed. Use Google My Business and Bing Places to your advantage. These listings are free and provide a great opportunity for your business to be found by people looking for a propane provider.
Other listing opportunities, to name a few, include: Yelp, Nextdoor, Citysearch and Local.com.
Get connected. This is the digital age. Tweet, blog, create YouTube videos, post on Instagram and get a Facebook page. Share news of your business's programs and offerings. Social media is an excellent source of exposure for your business. It makes it easy for your customers who like and follow you to share your information with their friends and spread the word about your service.
Socialize. We're not just talking about Facebook, Instagram and Twitter. We're talking about the good old-fashioned kind of socialization. Get out into the public's eye by joining and attending local chamber of commerce events. Put your branded truck in the holiday celebration parades. Sponsor a Little League team. Reserve booth space at your local county fair.
In general, get out in the public eye and show the community you exist and that you care.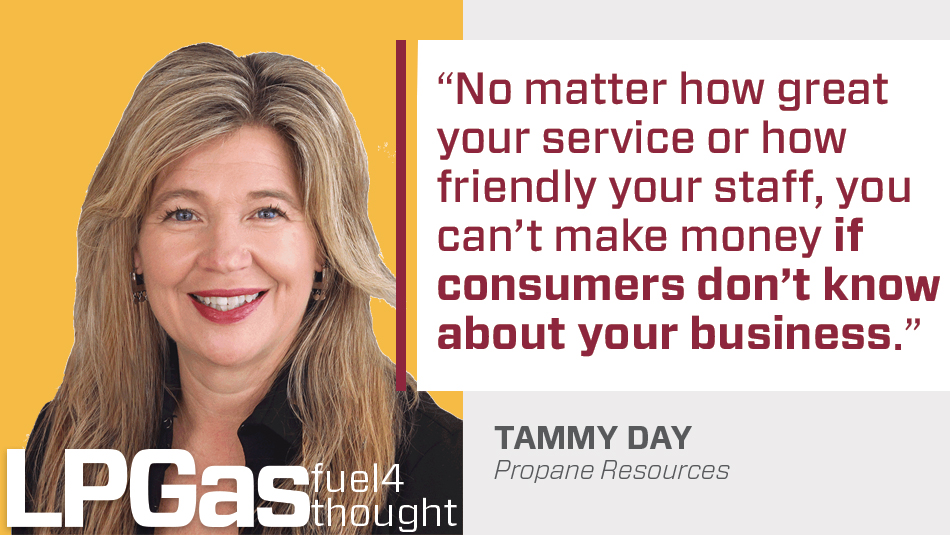 Use press releases. News outlets are always looking for news to cover. Is your office moving? Maybe you have new summer hours. Did you hire someone new or promote someone within the organization? It's all worthwhile news – share it.
Branding. It's so very important. Be consistent with the use of your company name and the programs you provide. Ensure your buildings, vehicles, advertising, employee uniforms and social outlets are consistent in their use of your company name, logo, colors and mission statement. Putting your best foot forward gives the impression that you care and will deliver a quality product and great service.
A number of actions will get your name out there, and many of them won't cost you anything but time.
No matter how great your service or how friendly your staff, you can't make money if consumers don't know about your business.
---
Tammy Day is director of marketing and communications at Propane Resources.