Let's get on the same (web) page
Warning: This column has some edge to it. It's because I'm passionate about both our industry and the environment. Yes – both. I'm going to start on my soapbox with the medicine, then talk about the spoonful of sugar that will help the medicine go down.
The medicine
Our industry is under assault based, in large part, on missing, incomplete, misleading or outright inaccurate information. If you missed the headlines, I'm talking about the environment and safety. Fortunately, we can do something about it, and we need look no further than our websites.
We try to look at the websites of other propane marketers who serve customers in our delivery area at least once a year. Here's what we found in our most recent perusal: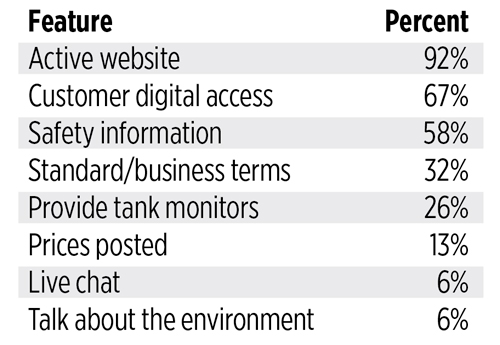 Competing energy sources are way ahead of us. I was unable to find a single utility or natural gas company website that did not talk about safety or the environment. If you find one, please pass it on to me.
And it gets worse: Every major oil company talks about the environment, sustainability and carbon emissions front and center on their homepages. In baseball terms: Big oil, utilities and natural gas are batting a thousand on the environment. Propane marketers are batting .006. Unless you live in a world where we still are playing T-ball and expect a participation trophy, we need to be better.
The spoonful of sugar
Our first step in being better is to talk to our customers about safety and the environment on our websites. And I mean more than the vague, royal "we." It includes Caywood Propane. By the time you read this column, we will have added content for both the environment and safety that do not exist as I type these words. I'm asking that you do the same. It's easy.
It's easy because, at this point, propane marketers maintain their websites using easy-to-use software or third parties. That leaves only two impediments: content and execution.
The content is easy if we begin small. Our website started by using excellent resources prepared by the Propane Education & Research Council (PERC) and available at propane.com. The first thing you'll notice when you go to the PERC website is that the homepage greets you with "Leading a Clean Energy Revolution" and has both safety and environment navigation tabs.
Here are the steps:
Visit propane.com/providers. If you do not have a propane.com account, set one up, then log in.
Select "Resource Catalog."
Search "2020 Environmental Kit – Collection."
See page 28 for more about PERC's new environmental materials.
You will find a wealth of materials that may be incorporated into your website. The environmental infographics, in particular, are in JPG format and easily incorporated into your website. We have started small and plan to continue to add content.
PERC's safety materials are very well developed. They include a guide as well as a series of social media and market image posts and videos. These materials may be tailored to your customer audience.
Here are the steps:
Log in under "For Propane Providers" at propane.com.
Select "Resource Catalog."
In the search box, type "safety."
Select "Safety Social Series – Collection."
Download the resources in this collection.
In the case of both safety and the environment, we are starting small so we can start sooner. It really is that urgent.
At this point, it's clear that the mechanics of changing a website and coming up with safety and environmental content are not impediments to communicating with our customers. All that remains is the execution. That part is up to you.
---
Christopher Caywood is a co-owner of Caywood Propane Gas Inc.