LP Gas Hall of Fame Profile: William B. McHenry
The LP Gas Hall of Fame welcomed five inductees to the Class of 2014 during a dinner and awards ceremony on April 11 in Atlanta. They are William B. McHenry (Pro-Gas Sales & Service), Casey Jarvis (JARCO), Daniel N. Myers (NPGA), J. Charles Sawyer (Sawyer Gas) and Dwain Willingham (Propane Resources). 
William B. McHenry emerged from western Michigan and Muskegon-based Pro-Gas Sales & Service as a calm, quiet, persistent force that people could not ignore.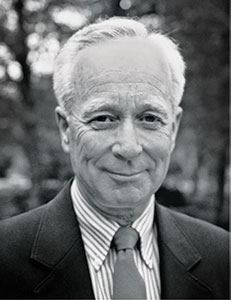 The sharply dressed man with the familiar brown briefcase became a reliable representative of the propane industry on a state and national level. He was gentle, thoughtful and outgoing. He made complete strangers feel welcome. He was a mentor to many.
"He would try to like everybody and kill them with kindness whether they were negative toward him or not," says his son Ryan McHenry. "He always tried to be a consensus builder. He might lose a lot of battles, but he was great at winning the war."
While William McHenry owned the family business that his father started in 1947, he entrusted much of the daily operation to sons Ryan and Phillip and devoted much of his time to industry issues. He traveled around the country out of a passion for propane because he knew the issues and how to convey them to others.
"Every issue that came along he had a hand in," says Bruce Montroy, senior vice president of sales for Bergquist, who knew McHenry through the Michigan Propane Gas Association (MPGA). "He didn't pick and choose his projects. He was involved in all of them."
McHenry enjoyed the political process, how state and national legislatures affected the propane industry. He spent 14 years as MPGA's governmental affairs chairman. He "sunk his teeth" into technology and standards, and he knew the NFPA 58 code "inside and out" because he helped to write it, Ryan McHenry says.
When government attempted to heap regulations on propane, William McHenry "fought that bureaucracy with the smart and intelligent industry people who really knew what was going on," Ryan McHenry adds.
Mission impossible
William McHenry is well known in Michigan for his role in legislation that exempted propane marketers from paying personal property tax on residential tanks at customer locations. He worked voluntarily and tirelessly with the National Propane Gas Association (NPGA) staff and lobbyists.
"He accomplished the impossible. Everyone said no, this will never happen – there's too much against us here," recalls Tom Jaenicke, owner of ATomiK Creative Solutions in Charlevoix, Mich. "In the end, Gov. [James] Blanchard, in his last day in office [in 1990], signed that bill into law. It was a memorable moment for NPGA and for Michigan."
McHenry was a member of numerous state and national committees. He served as president of the Michigan association and the NPGA board of directors. In 1988, he represented the U.S. propane industry, giving a safety presentation during the inaugural World LP Gas Forum in San Francisco. He was a founding member of the Propane Education & Research Council, instrumental in implementing its state rebate program and keenly involved in its safety and training programs. He also was a big proponent of the industry's Certified Employee Training Program and stressed its importance to companies in Michigan.
McHenry remained involved in so many areas not because of the recognition but because he believed the work was a necessity for an industry improving lives.
"At that time it was more about raising the standard of living for people changing over from wood or coal to having gas for heat, a clothes dryer, hot water," Ryan McHenry says of the industry. "You could raise the standard or ease of people's living by installing a propane system for them and servicing the appliance. It was quite a humanitarian type of feeling you could derive."
William McHenry also helped to ensure propane retailers worked on a level playing field. He spoke on behalf of many who opposed government subsidies to a growing number of rural electric cooperatives entering the propane business. What resulted was a code of conduct in Michigan where cooperatives getting government support could not cross subsidize their electricity and propane offerings.
Dan Myers, former CEO of NPGA and a fellow LP Gas Hall of Fame inductee, also recalls McHenry working hard with industry leaders to restore a section of NFPA 58 providing that consumer tanks can only be filled by the owner or with the owner's permission.
"I [also] remember his battle against the move of NPGA from Chicago to Washington, D.C. [in 2002]," Jaenicke says. "He presented the opposing view and he did it very convincingly. In the end we moved, but because of Bill's efforts we were better prepared to make the right kind of move than we would have been if people like Bill McHenry had not been there."
In the details
McHenry was a patient listener and comfortable stating his case. He was a natural at the Propane Days lobbying event, speaking face to face with political leaders and setting an example for the rest of the industry to follow.
"He would be making his point, then there would be a pause in his presentation as though he was collecting his thoughts," Montroy says of a delivery style for which McHenry became known. "But I think he was waiting for everybody to catch up with him."
McHenry was interested in getting people involved in the industry, regardless of their background or company. He welcomed people at the front door of meetings. He addressed committee leaders as "Mr. President," "Mr. Chairman" or "Mr. Treasurer." He also wasn't without a sense of humor.
"Bill was just first class," says David Lowe of Pro Image Communications, who owned Lowe Bros. & Dad Inc. in Charlotte, Mich., and knew McHenry through the state association.
McHenry was methodical and detailed in his work – qualities consistent with flying airplanes, another love of McHenry's, Lowe recalls. That detail carried over to his wardrobe, as McHenry often was seen in a nice suit or sports coat. Then there were the accessories.
"Bill always had a brown briefcase, and he would sit that next to him all the time," Lowe says. "We didn't know what was in there, but he was always working on something. He wasn't a smart aleck or anything – he just said 'I can't talk about that.'"
Pro-Gas Sales & Service, which McHenry passed down to sons Ryan and Phillip, evolved into ProGas Propane and was sold to Inergy in 2001. Suburban Propane bought Inergy's retail propane division in 2012.
McHenry is a recipient of the highest honors given by MPGA (honorary member) and NPGA (the Distinguished Service Award and Bill Hill Award). He died in 2003 at the age of 73.
Brian Richesson is the editor in chief of LP Gas Magazine. Contact him at brichesson@northcoastmedia.net or 216-706-3748.