Think of propane as a delivery service
There are lots of ways to think about what we do.
It might be helpful to think of propane marketing as last-mile delivery logistics.
What is last-mile delivery?
At the risk of oversimplifying what we do, there's a compelling argument to be made that the only difference between propane marketers and Grubhub, Uber Eats, DoorDash and similar last-mile delivery services is that we deliver gas to the consumer's propane tank instead of food to their doorsteps for consumption into their biological tanks. Like those delivery services, we deliver a product we don't make to the consumer who uses the product.
What does it mean for business?
It means consumers may have different expectations. For example, consumers who make online purchases of shoes and other goods are used to tracking packages. These consumers don't even like seeing messages like "out for delivery" when they enter tracking numbers online. Can your consumer check the status of your delivery without calling you? Ours can. They simply select the "Delivery Status" button on our app to see their expected delivery date.
Last-mile delivery also is viewed as a cost by both consumers and consumer products companies. The increasing prevalence of free shipping means that consumers are less willing to pay delivery fees, and consumer products companies are more willing to use technology solutions to improve their last-mile logistics. In other industries, this has led to crowdsourcing for local "gig" services using mobile apps like Uber, Lyft, Airbnb and Postmates. Amazon similarly provides an online platform for third parties to sell their products. These technology-enabled, last-mile logistics solutions enable faster, less-expensive, on-demand delivery of products or services to consumers.
It's easy and convenient to dismiss these models in the propane industry. After all, how can a gig economy support gas checks and tank installations? And how many potential gig workers have their own bobtails?
These easy, convenient dismissals are dangerous. After all, our industry already leverages Amazon-like services. We, for one, are a supplier for Tankfarm, a technology-enabled platform that has created a supplier network that spans over 36 states in 400 locations, selling millions of gallons to consumers, found using social and digital media.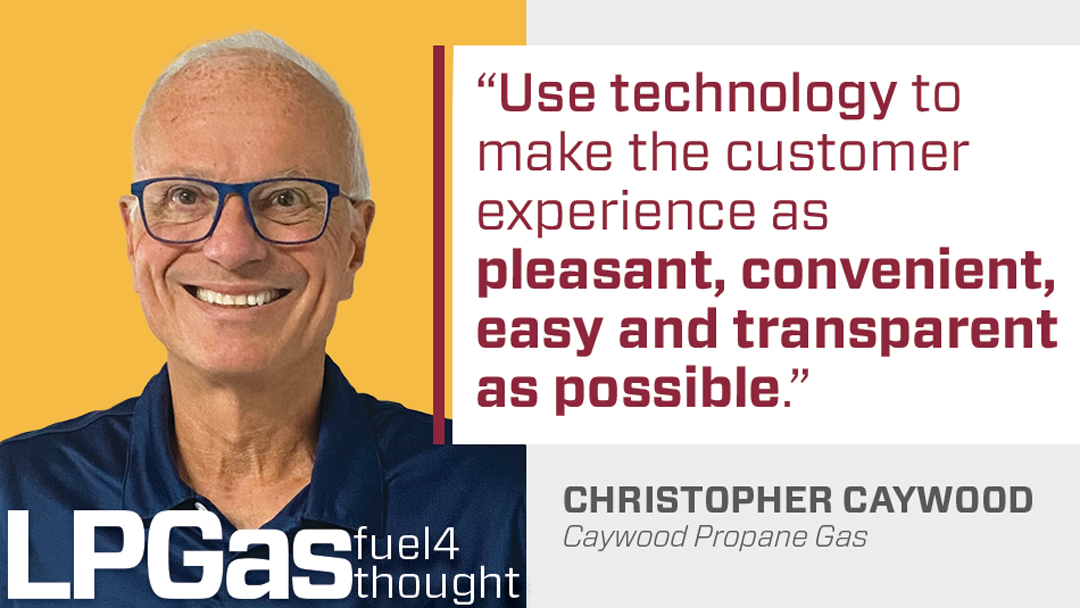 What can we do?
The short answer is use technology to make the customer experience as pleasant, convenient, easy and transparent as possible.
Begin with your own experience with technology-enabled product or service purchases, identify what delighted you about that purchase, and try to make it work for your business. Then take it from there.
We embarked on this process about five years ago. In that time span, we:
Implemented a fully digital new-customer application process.
Added a chat feature on our website.
Launched a customer app and website portal.
Added limited text notification and communication features.
Created and launched a series of why and how-to videos on YouTube that address the most common customer service questions that otherwise required phone calls or in-person visits.
Became a Tankfarm supplier.
We currently are working on:
Online and app-based self-service service scheduling for customers.
Full text message communications for billing, deliveries and appointments.
More comprehensive social and digital media communications.
We live in a rapidly evolving business and economic environment where traditional business models and regulatory structures are being disintermediated and upended using technology tools and fresh thinking. We don't know if our industry is next, but if it is, we aren't just willing to go the extra mile; we'll go the last mile.
---
Christopher Caywood is a co-owner of Caywood Propane Gas Inc. Contact him at chris@caywoodpropane.com.