Renewable propane is a reality
In a recent survey of propane industry members, the question was asked: In how many states do you market renewable propane gas (RPG) to end users?
I was surprised to find that renewable propane is now being marketed in 16 states across the country. Considering that the first credible amount of RPG was sold to end users in 2019, this is an incredible advancement for a renewable energy product that wasn't even available just three years ago.
This steep demand curve is something to which the entire propane industry needs to pay attention and respond accordingly.
Supply chain
Demand for renewable propane is already strong in the autogas market, and awareness and demand for RPG is growing in other market segments as well.
The next frontiers for renewable propane are the residential, commercial and agriculture markets. Given the right attention by the industry, you can expect those markets to grow as quickly as autogas is growing. Renewable propane has officially joined the ranks of sustainable liquid fuels, including renewable diesel, biodiesel, Bioheat and sustainable aviation fuel (sometimes referred to as alternative jet fuel).
Supply sources for RPG have not been able to keep up with demand, but that, too, is changing. Producers of other liquid fuel renewables, such as biodiesel, ethanol and dimethyl ether (DME), are starting to realize the opportunities of shifting part of their production to RPG.
DME blended with conventional propane is a supply source to which many are turning. Renewable propane has the unique capability of achieving net zero carbon output when the appropriate renewable DME blend is incorporated.
Prices for renewable propane may seem high now, but remember that when there is more of something, it costs less.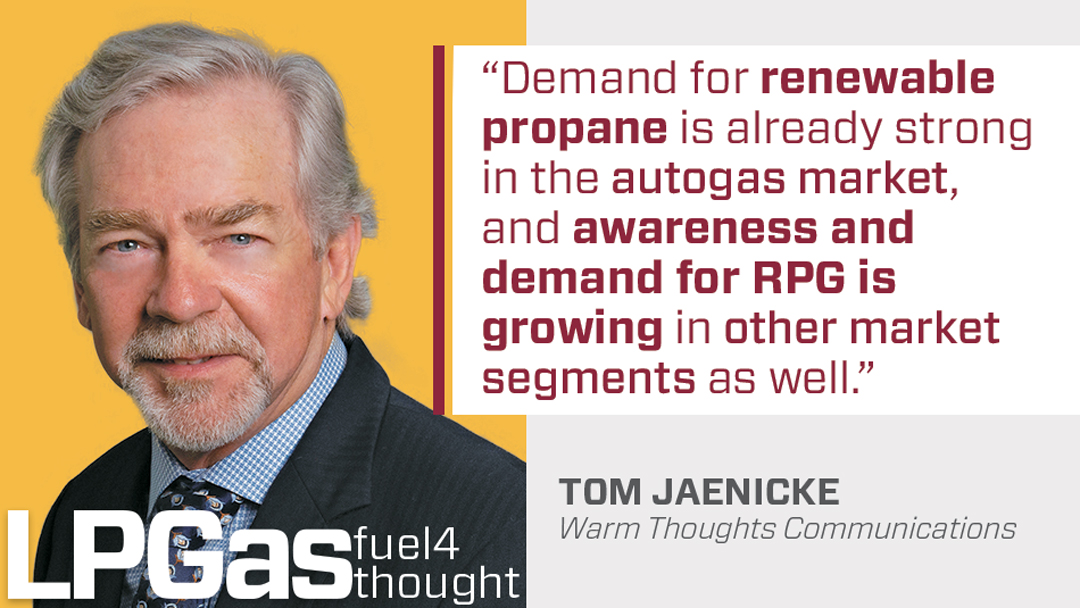 Resources for marketers
U.S. propane industry organizations at the national, regional and state levels are starting to pay more attention to renewable propane as a complement and extension of the conventional propane market rather than as a competitor. There is an increasing appetite from propane marketers for information on how to source, market and sell renewable propane as an addition to the conventional propane and other energy products they are selling now.
At the 2022 National Propane Gas Association (NPGA) Southeastern Convention & International Propane Expo held in Nashville, Tennessee, three education sessions addressed the present and future opportunities for those retailers who are considering adding RPG to the energy products they market. Those sessions were among the most well attended at the convention.
The NPGA is also beginning to advocate for RPG on a variety of fronts, including parity with other renewables on government grant and subsidy opportunities. Find out more about what NPGA is doing to advocate for both conventional and renewable propane at npga.org.
The Propane Education & Research Council (PERC) and the World LPG Association are conducting research on DME combined with conventional propane blends and their effects on various equipment components. PERC is also starting to pay more attention to renewable propane in its overall development of the propane market. Find out more at propane.com.
Also check out the Renewable Propane Alliance, a relatively new organization initially devoted to the formation of a networking group of equipment manufacturers and installers and the producers, suppliers and retailers of renewable propane. Find out more at renewablepropanegas.com.
Conventional propane is cleaner than most grid-sourced electricity today, and the advent of renewable propane means that it is unlikely that grid-sourced electricity will ever catch up. Propane is clean now and getting cleaner.
---
Tom Jaenicke is vice president of propane marketing services for Warm Thoughts Communications. He can be reached at tjaenicke@warmthoughts.com or 810-252-7855.