Tips to market propane to the millennial homebuyer
There's a new kid on the block.
Millennials account for the latest influx of homebuyers, and they present a significant opportunity for propane companies to capture gallon sales.
According to Pew Research Center, millennials were born between 1981 and 1996. As of 2021, this generation made up the largest population group in the U.S., the U.S. Census Bureau reports.
As this group's collective age increases, so does its share in the homebuying market. The COVID-19 pandemic spurred a shift from urban life to suburban and rural living, and many millennials are looking to settle down.
Ben Gutkin, vice president of marketing services at Warm Thoughts Communications, presented on the significance of millennial homebuyers to the propane industry at the 2022 National Propane Gas Association Southeastern Convention & International Propane Expo. Gutkin also sat down with LP Gas to discuss the typical characteristics of the young homebuyer and marketing tactics to employ to promote propane.
Examining the facts
Propane retailers may not view millennials as their target audience, says Gutkin. Traditionally, the propane customer has belonged to the generations preceding millennials. But to stay relevant and keep gallon sales flowing, it is imperative to shift that mindset and learn how to draw in the millennial buyer.
"There's this assumption that millennials are not who our audience is, and we tend to focus our new customer acquisition efforts around people in an older category," Gutkin says. "I think it's because we're not realizing that millennials are, in fact, a large portion of homebuyers and a large portion of the population and, therefore, are buying houses in our markets. Probably the biggest misconception is that's not our audience – but actually, it is."
According to the U.S. Census Bureau, 47.9 percent of millennials owned homes as of 2020. Additionally, 67 percent of millennials were actively engaged in trying to buy a home in 2021's second quarter, marking a 10 percent increase from the same quarter in 2020, according to the National Association of Home Builders' 2021 Housing Trends Report.
Millennials now account for 43 percent of homebuyers, an increase from 37 percent in 2021 and the most of any generation, according to the National Association of Realtors' 2022 Home Buyer and Seller Generational Trends report.
And while their current homeownership rate still trails that of Gen X and the Baby Boomers, millennials are strong candidates for homebuying and, therefore, residential propane.
"In fact, their demographic makes them more likely to buy a home and also to buy a home that has a higher value," Gutkin says. "Millennials tend to purchase homes that have higher value than the rest of the population because they are higher earners. We make all these assumptions about millennials: They're lazy, they're unfocused, they don't have goals. But the truth is that is not who they are."
Millennial values
From prioritizing a work-life balance to sustainability and ethical consumption, millennials practice a set of principles somewhat unique to the generations before them. Here are a few values to keep in mind when marketing propane to a potential millennial homebuyer:
Quality: Many millennials prioritize quality over the lowest price. They will likely spend more if they know what they're getting in return is long-lasting, sustainable and will cause less issues in the long term.
"They are not typically price-shoppers," Gutkin says. "You're not going to get the millennial audience by being the lowest price in the market. They are willing to pay for things that they value."
Trust: Being a trustworthy business is key to winning the millennial homebuyer, Gutkin says. They often will take the time to research a company – typically via internet searches, Google reviews and social media – before committing their dollars.
"The establishment of your brand to this audience needs to include trust," he says. "You can trust us because we have the best trained technicians, we have the safest drivers. Trust becomes something that they're actually willing to pay more for."
Mental health: One distinguishing factor of millennials is their prioritization of mental health. While the generations preceding may have "taken charge" and fixed tanks or measured fuel levels on their own, Gutkin explains, millennials generally prefer a professional to take care of such matters. Promoting automatic refills, budget plans and technology such as tank monitors may draw in a millennial customer.
"Because [millennials] lead very complex lives, they look for things that make their lives easier," Gutkin says. "The younger demographic, a millennial, is going to say: 'Hey, anything that you can do to give me less to worry about is fantastic, and I'm all for it.'"
Tips for attracting millennials
Propane is an affordable, reliable and low-emissions fuel, and marketing these attributes to millennials is key to acquiring their business. As a propane retailer, several best practices will likely help to attract a young homebuyer:
Increase the company's online presence. Millennials spend a great deal of time online. When trying to market to potential customers, it's ideal to put your message in front of them where they already are. For millennials, that is often social media.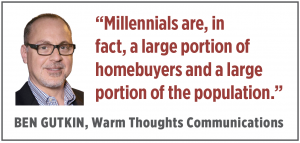 "It's about understanding their behavior, how they go about researching where they look for their information, and making sure that our messaging is in front of them at the right place, at the right time," Gutkin says. "That can be any combination of digital advertising and marketing strategies. But the most important thing is to recognize that the first place they're going to find you is online."
Create natural "touchpoints." With millennials spending so much time online, find creative ways to meet them where they are. It can take several touchpoints to ultimately attract a new customer online. Gutkin shares one thoughtful way to create a touchpoint with a millennial homebuyer:
"The top online activity of millennial homeowners is looking for recipes," he says.
"If I'm a propane marketer [and] have a tank exchange, I'm going to run an ad for my tank exchange that's in the area where the person is searching from. Or if I want to increase the gallons in my already-existing propane home to include propane appliances, I might start promoting propane's use for cooking.
"Whenever you look up a recipe online, you get all of these ads. The ads may or may not relate to cooking in some way. But when it does, it tends to make you pay more attention because it is a topic you're interested in. So if you see an ad that's related to propane cooking while you're looking at recipes, then you're completing that circle in the mind of the user."
Simplify the end-user experience. Some examples include automatic delivery, budget plans, price protection programs and equipment service plans, Gutkin explained during his presentation at the Propane Expo. The use of mobile applications and tank monitoring, where customers can see their tank levels in real time, may also appeal to the new generation of homebuyers.
Produce engaging videos and advertisements. From various social media platforms to instructional content, millennials spend much of their time online watching videos.
"This demographic is big on doing YouTube research, especially for a new homeowner," Gutkin explains. "'How do I fix my toilet? How do I caulk the bathtub?' All of those kinds of how-to things put them squarely in a place where they're going to be exposed to video ads, which can be really effective, if done well."
Encourage reviews. To help establish trust, a common value among millennials, transparency is key. Millennials often take a look at Google reviews before making a purchasing decision. Ask current customers to review their experiences at the company as a way to build credibility among potential customers.
Propane satisfies several of the values commonly held among millennials: It is reliable. It is affordable. It is a sustainable alternative energy option.
To relay that message to the potential end user, though, it's important to understand purchasing habits, priorities and thought processes.
By employing a marketing strategy to address these priorities, it becomes much simpler to connect with and attract the new generation of customers.
"I frequently hear from our clients: 'I don't need to worry about advertising on Facebook, YouTube or anything like that because that's not where my audience is,'" Gutkin says. "And I think the main point here is that's exactly where your audience is."
Carly Bemer (McFadden) was the managing editor at LP Gas magazine.