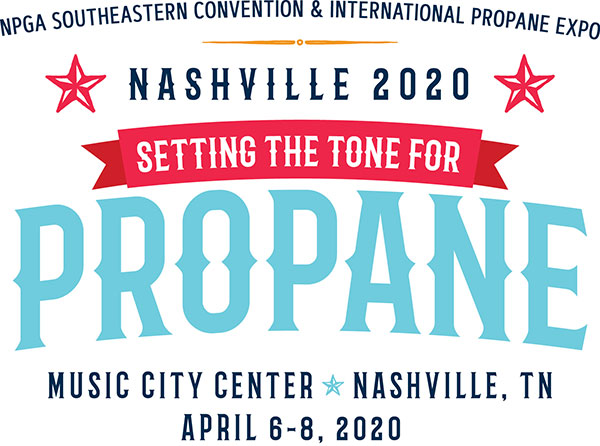 The National Propane Gas Association will host the 2020 Southeastern Convention & International Propane Expo April 6-8 at the Music City Center in Nashville, Tennessee. The largest propane industry event in the world features products and services designed to improve your company's bottom line.
We invite you to visit LP Gas in Booth #516, where you can meet the publisher, our editors and other staff members, and sign up for your free LP Gas subscription.
On behalf of our sponsors listed below, we invite you to visit these companies and learn more about what they can offer to your operation.
*Featured image courtesy of NPGA
---
2020 Companies
Acquisitions (including succession planning)
AmeriGas*
Cetane Associates LLC*
Energy Distribution Partners*
Ferrellgas*
Star Group LP*
Cranes (including service trucks, tank delivery, trailers, etc.)
H&H Sales Company Inc.
Liftmoore Inc.
Palfinger North America Region
Signature Truck Systems LLC
Bobtails/Transports
Countryside Tank Co.
Business (including risk management, equipment leasing/finance solutions, training, etc.)
CHS Inc.
Team Drive-Away Inc.
Warm Thoughts Communications
Distributors
Bergquist Inc.
The Home Depot Pro
IPS Equipment Inc.
MTankCo Supply
Ray Murray Inc.
Fuel Additives
ValvTect Petroleum Products
Gas Control Equipment (including pressure regulators, valves, etc.)
Gas Equipment Co. Inc.
Jomar Valve
Marshall Excelsior Co. 
RegO
Heaters / Gas Fireplaces / Grills / Water Heaters
Bismar Inc.
Enerco Group Inc.
Robert H. Peterson Co.
Propane autogas (including fuel systems, vehicle upgrades, etc.)
Alliance AutoGas
Parafour Innovations LLC
ROUSH CleanTech
Propane marketers
Paraco Gas*
Security
Lock America Inc.
Tanks/Cylinders (including construction, dollies, graphics, protective coatings, refurbishing, safety, storage, etc.)
American Standard Manufacturing
Certified Cylinder LLC
LP Cylinder Service Inc.
LPG Ventures Inc.
Manchester Tank & Equipment Co.
Quality Steel Corp.
Renaldo Sales & Service Inc.
Superior Energy Systems
Terravest Industries
Worthington Industries
Technology (including mobile logistics, monitoring)
ADD Systems
Anova
Automated Wireless Environments Inc.
Base Engineering Inc.
Cargas
Otodata Inc.
Propane Management Systems
Rural Computer Consultants Inc.
Suburban Software Systems Inc.
*will not exhibit at the Southeastern Convention & International Propane Expo
---
Schedule of Events
| | |
| --- | --- |
| 8 a.m. – 5 p.m. | Propane Cargo Tank & Inspection Workshop* |
| 8 a.m. – 4 p.m. | Targeted & Regular Exhibitor Move In |
| 12 p.m. – 4 p.m. | Registration Open |
| | |
| --- | --- |
| 8 a.m. – 4 p.m. | Exhibitor Move In |
| 8 a.m. – 5 p.m. | Registration Open |
| 9 a.m. – 1:45 p.m. | Concurrent Education Sessions – Groups A – C |
| 9 a.m. – 11:45 a.m. | WIP Leadership Forum @ the Expo* |
| 2:30 p.m. – 3 p.m. | PERC Update |
| 3 p.m. – 4 p.m. | Opening Keynote Speaker: Jimmy Yeary |
| 4 p.m. – 7 p.m. | Expo Hall Welcome Reception |
| | |
| --- | --- |
| 7 a.m. – 5 p.m. | Registration Open |
| 7:30 a.m. – 9 a.m. | Prayer Breakfast* |
| 9 a.m. – 10 a.m. | Concurrent Education Sessions – Group D |
| 10 a.m. – 4:30 p.m. | Expo Hall Open |
| 10:15 a.m. – 4 p.m. | Fast Track Sessions in the Expo Hall |
| 10:15 a.m. – 4:15 p.m. | Technical Workshops |
| 3:30 p.m. – 5 p.m. | Women in Propane Roundtable |
| 5 p.m. – 6 p.m. | Women in Propane Networking Reception |
| 8 p.m. – 12 a.m. | Young Gassers Reception* |
| | |
| --- | --- |
| 8:30 a.m. – 11:30 a.m. | Registration Open |
| 9 a.m. – 12 p.m. | Expo Hall Open |
| 9:15 a.m. – 11 a.m. | Fast Track Sessions in the Expo Hall |
| 12:01 p.m. – 8 p.m. | Exhibitor Move Out |
*Additional registration required